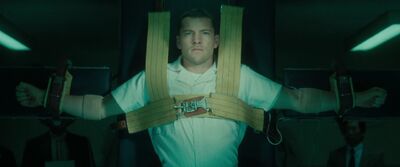 Sam Worthington (1976 - )
Thunderstruck (2004) [Ronnie]: Electrocuted/burned to death when lightning strikes him on a golf course. (Thanks to Tommy)
Macbeth (2006) [Macbeth]: Stabbed in the stomach by Lachy Hulme; he dies shortly afterwards while holding Victoria Hill's body. (Thanks to Nemanja and Tommy)
Rogue (2007) [Neil Kelly]: Bitten by a giant crocodile; his body is shown afterwards when Michael Vartan discovers him. (Thanks to Nemanja and Tommy)
Avatar (2009) [Jake Sully / Tom Sully]: Playing a dual role as twin brothers, "Tom" is shot to death (off-screen) during a robbery; his body is shown afterwards when "Jake" views his cremation. "Jake's" human body dies after the Na'vi transfer his soul into his avatar body; the movie ends just as the transfer is completed. (Thanks to Tommy)
Terminator Salvation (2009) [Marcus Wright]: The human "Marcus" is executed by lethal injection; his organs are then harvested to create a new type of Terminator with Marcus' appearance and memories. The Terminator "Marcus" is dies (off-screen) when he donates his heart to save Christian Bale. (Thanks to Tommy) (Note: Although he died in the movie, he was later brought back to life in the comic book sequel: Terminator Salvation: The Final Battle.)
Sabotage (2014) [James 'Monster' Murray]: Stabbed by Mireille Enos in a fit of rage after he puts her passport in the waste disposal. His body is shown when Arnold Schwarzenegger and Olivia Williams find it stuffed in a refrigerator.
The Keeping Room (2014) [Moses]: Shot at close range by Brit Marling after she had previously shot him in the chest when he had tried to kill her. (Thanks to Brian)
Hacksaw Ridge (2016) [Captain Jack Glover]: Shot by a Japanese soldier.
Fractued ''(2019) [Ray Munroe]: Commited suicide.
Call of Duty: Black Ops 2 (2012): [Alex Mason]: In the mission Suffer with Me, the player controls James C. Burns, and is at one point ordered by Michael Keaton to kill a target believed to be Kamar de los Reyes. If the player shoots the target in the chest or head, the events that occur later reveals that the target the player has shot is Sam. Sam's death is preventable if he is shot in the leg.
Husband of Lara Bingle
Community content is available under
CC-BY-SA
unless otherwise noted.