Sam Witwer (1977 - )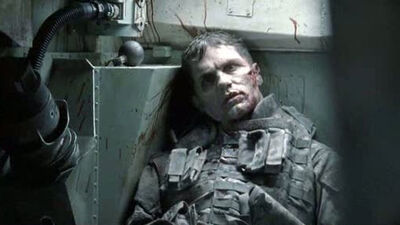 Film Deaths:
[
]
Crank (2006) [Shootout Henchman 1]: Shot to death in the films climatic shootout.
The Mist (2007) [Private Jessup]: Killed by the creatures in the mist, after Marcia Gay Harden's followers force him outside as a sacrifice; we last see him being grabbed and taken away by one of the creatures.
TV Deaths:
[
]
Star Wars: The Clone Wars: Ghosts of Mortis (2011; animated) [The Son]: Stabbed in the back by Matt Lanter after being trick by  Lloyd Sherr.
Once Upon a Time: Strange Case (2016) [Mr. Hyde]: Killed after Hank Harris becomes impaled on a harpoon during a struggle with Colin O'Donoghue due to Hank and Sam's life forces being connected together as Mr. Hyde is the split personality of Dr. Jekyll (played by Hank). Hank and Sam's bodies are wrapped up by Colin afterwards.
Star Wars Rebels: Twin Suns (2017) [Maul]: Slashed in a brief lightsaber duel with Stephen Stanton. Dies shortly after talking with him.
Being Human [Aidan Waite]: After Aidan becomes human due to Sally's self-sacrifice, his age starts to catch up to him from the decades he was a vampire. He then burns down the haunted house and killing Romona. As he passes over, he is met by Sally and they kiss.
Video Game Deaths:
[
]
Star Wars: The Force Unleashed (2008) [Starkiller/Emperor Palpatine]: Playing a dual role of the main protagonist and the main antagonist, "Starkiller" is killed in an explosion during a struggle from the Force lightning shot by "Palpatine". Palpatine survives the game.
Star Wars: The Force Unleashed 2 (2010) [Starkiller]: Though he survives in the actual game, but if the player chooses the Dark Side Ending, Sam is impaled by a dark clone (also portrayed by Sam) of himself after trying to strike Matt Sloan down.
Gallery
[
]