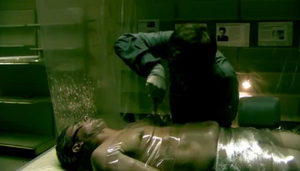 Sam Trammell (1969 - )
Aliens vs Predator: Requiem (2007) [Tim]: Mauled to death by an alien after he goes to check at the window. His Body being dragged by an Alien, who is feasting on his body, but is later thrown into a Pool by Ian Whyte who then dissolves it with dissolving Liquid.
I Am Wrath (2016) [Detective Gibson]: Killed in an explosion, when John Travolta leaves him handcuffed to the wheel of his car with a lit piece of fabric inserted into the gas tank.
I See You (2019) [Todd]: Bludgeoned to death by Jon Tenney (as Owen Teague secretly looks on), who makes it look like his son (Judah Lewis) did it. His body is later seen when Helen Hunt discovers him, then again as she and Jon bury the body.
Dexter: Crocodile (2006) [Matt Chambers]: Stabbed to death by Michael C. Hall (as punishment for the deaths and injuries Sam caused with his habitual drunk driving), after Michael straps him to a table with plastic wrap. (Thanks to Stephen)
Medium: Things to Do in Phoenix When You're Dead (2009) [Dr. Brian Seward]: After a collapse (off-screen) caused by a tumor he is clinically dead for almost three minutes before being revived as he tells Patricia Arquette.
Medium: Things to Do in Phoenix When You're Dead (2009) [Dr. Brian Seward]: He dies of cardiac arrest when Emily Bergl doesn't revive him after she deliberately injected him with diazepam so he can roam as a ghost like they did many times before.
The Order
Community content is available under
CC-BY-SA
unless otherwise noted.