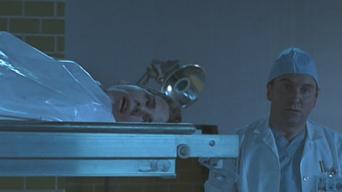 Ryan Reynolds (1976 - )
Film Deaths
Edit
The Alarmist (Life During Wartime) (1997) [Howard Ancona]: Killed off-screen, along with his mother, Kate Capshaw, by a burglar. Their bodies are shown afterwards in the morgue.
R.I.P.D. (2013) [Det. Nick Walker]: Shot repeatedly by Kevin Bacon, causing him to fall off a railing. The film then follows Reynolds in the afterlife as he joins the afterlife police unit R.I.P.D.
The Voices (2014) [Jerry/Mr. Whiskers/Bosco/Deer/Bunny Monkey]: Playing both a normal human character as well as the voices of his multiple pets that he hallucinates are talking to each other, "Deer" is hit with a car by "Jerry" before eventually being mercy killed by having his throat slit by "Jerry" while Gemma Arterton watches in horror. "Jerry" dies from gas inhalation after he breaks a gas line while trying to hide from the police following his kidnapping of Jacki Weaver.
Deadpool 2 (2018) [Wade Wilson a.k.a. Deadpool/Juggernaut/Weapon XI/Himself]:

"Wade" dies serveral times throughout the film, and each time visits with Morena Baccarin in the afterlife:

Commits suicide by blowing himself up. However his healing abilities kick in after Stefan Kapičić pieces him back together. (Played for comic effect.)
Breaks his back and neck after falling over a railing while wearing a collar inhibiting his healing abilities. The collar falls off, however, and once again his healing factor brings him back.
Drowns after falling into a frozen lake, but is revived upon surfacing.
Is shot in the chest by Josh Brolin when Ryan dives in front of the bullet meant for Julian Dennison while wearing an inhibitor collar. He dies with Zazie Beetz, Brianna Hildebrand and Shioli Kutsuna by his side. His death is averted when Josh goes back in time and places a lead coin on Ryan to protect him from being shot. (Played for comic effect.)

Playing "Weapon XI" from X-Men Origins: Wolverine (2009), Ryan is shot in the head by a time-travelling "Wade" as he is about to fight Hugh Jackman, who then shoots the body repeatedly to be sure. (Played for comic effect.)
Playing himself, Ryan is shot in the head by "Wade" while holding the script for Green Lantern (2011). (Played for comic effect.)
"Juggernaut" survives the movie.
TV Deaths
Edit
Two Guys, a Girl, and a Pizza Place: Two Guys, a Girl, and a Psycho Halloween (1998) [Berg]: Impaled on the spire of Richard Ruccolo's Empire State Building Halloween costume, after Richard confuses Ryan for Ryan's murderous look-alike. (Played for comic effect.) (The deaths in this episode had no bearing on the rest of the series, and everyone was back in the following episode.)
School of Life (2005) [Mr. D]: Dies off-screen from lung cancer. It is revealed after a time jump with a closeup of a photo of him and the basketball team he coached with an "in memory' inscription.
Notable Connections
Edit
Community content is available under
CC-BY-SA
unless otherwise noted.