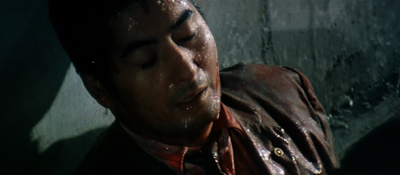 Ryoji Hayama (1932 - 1993)
Film Deaths
Edit
3 Seconds Before Explosion (Bakuha 3-byô mae) (1967) [Uetuski]: Dies when the room he is in blows up in an explosion caused by Akira Kobayashi.
Black Dagger (Burai kurodoso) (1968) [Yakuza]: Shot in the face.
Dice and Swords (Tekka no hanamichi) (1968) [Gangster] Stabbed to death by Akira Kobayashi.
Heartless (Burai hijo) (1968) [Sawada]: Stabbed to death by Hiroshi Nawa.
Retaliation (Shima wa moratta) (1968) [Kitakata]: Shot to death in a struggle over a gun with Hideaki Nitani.
Bloody Territories (Kôiki bôryoku: ryuuketsu no shima) (1969) [Kazuo Itakura, Itakura Clan boss]: Stabbed to death in the film's climatic battle by Akira Kobayashi, whom he also kills.
Brothers Serving Time (Choeki san kyodai) (1969) [Boss] Stabbed to death by numerous yakuza. 
Gangster Cop (Yakuza Deka) (1970) [Miura Kingo] Tortured to death.
Yakuza Wolf (Lone Assassin) (Okami yakuza: Koroshi wa ore ga yaru) (1972) [Ishiguro] Shot to death by Sonny Chiba, he dies moments after talking to Chiba while mortally wounded.
Criminal Woman Killing Melody (Zenka onna: Koroshi-bushi) (1973) [Boss Kiichi Oba] Shot in the forehead by Reiko Ike.
Violent Streets (Bôryoku gai) (1974) [Futahashi]: Shot in the chest with a shotgun blast while coming out of an elevator by Noboru Andô.
Machine Gun Dragon (Yokohama ankokugai mashingan no ryu) (1978) [Yakuza]: Shot to death by Bunta Sugawara.
TV Deaths
Edit
None Known.
Community content is available under
CC-BY-SA
unless otherwise noted.