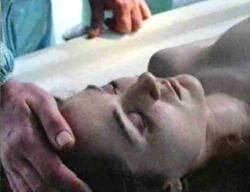 Ruth Gemmell (1967 - )
Macbeth (1998) [Lady Macduff]: Killed by Sean Pertwee's soldiers. (I haven't seen this version myself, but I'm familiar with the play.)
F (2010) (aka The Expelled) [Sarah Balham]: Beaten in the head with a fire extinguisher by one of the hooded thugs. We see her body when David Schofield finds her, with a barbed garotte around her neck. (Thanks to Brian)
Band Of Gold (1995) [Gina Dickson]: Found dead on a wasteground. (Thanks to Brian)
Silent Witness: Sins of the Fathers (1996) [Detective Constable Kerry Cox]: Reportedly killed by falling rubble while searching through an abandoned building; her body is also shown in the morgue while Amanda Burton examines her. (I haven't seen this episode myself, but got the information from the Topless Review British & TV Actresses website) (Nudity alert: Topless) (Thanks to NK)
Primeval: Series 3 Episode 4 (2009) [Katherine Kavanagh]: She is devoured in one gulp by the Gigantosaurus. We see the creature from her view with it's gaping maw and the reaction of the horrified witnesses tells us of her fate. (Thanks to Brian)
Waking the Dead: End Game (2009) [Linda Cummings]: Falls to her death (off-screen) at the end of a rooftop confrontation with Trevor Eve as Ruth dares him to let her die; Trevor grabs her arm but just before the credits roll we see him release his grip, leaving it ambiguous whether he lost it intentionally or not. (Thanks to Brian)
Penny Dreadful: And They Were Enemies (2015) [Octavia Putney] Neck snapped by Rory Kinnear.
Community content is available under
CC-BY-SA
unless otherwise noted.