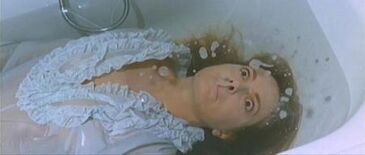 Rossella Falk (1926 - 2013)
Film Deaths
Edit
Modesty Blaise (1966) [Mrs. Clara Fothergill]: Hanged when the rope to a rope-and-pulley system gets tangled around her neck during a fight with Monica Vitti, at which point Terence Stamp knocks the counterweight over the wall, yanking Rossella up in the air.
The Fifth Cord (Giornata nera per l'ariete; Evil Fingers) (1971) [Sophia Bini]: Strangled, then thrown over a railing, by Maurizio Bonuglia. (Thanks to Johan)
Seven Blood-Stained Orchids (Sette orchidee macchiate di rosso; Puzzle of the Silver Half Moons) (1971) [Elena Marchi]: Drowned in her bathtub by Renato Romano. (Thanks to Johan)
The Black Belly of the Tarantula (La Tarantola dal ventre nero) (1972) [Woman with Mole]: Stabbed to death by Ezio Marano. (Thanks to CA and Andrea)
Scenes from a Murder (L'Assassino...e al telefono) (1972) [Margaret]: Commits suicide (off-screen) by shooting herself after Anne Heywood rejects her advances. We only hear the shot as Anne walks away from the mansion, and do not see the body afterwards.
Sleepless (Non ho sonno; I Can't Sleep) (2001) [Laura de Fabritiis]: Falls over a balcony railing after being startled by a mechanically-operated puppet (set in motion by Roberto Zibetti) made to look like her dead son.