Wiki Targeted (Entertainment)
Play Sound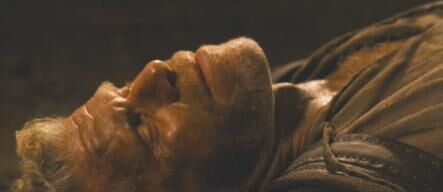 Ron Perlman (1950 - )
Film Deaths
[
]
The Adventures of Huck Finn (1993) [Pap Finn]: Dies (off-screen) of unspecified causes; his body is shown afterwards when Courtney B. Vance discovers him.
Cronos (1993) [Angel De La Guardia]: Falls to his death (through a skylight onto a table) after being thrown off a roof sign with Federico Luppi (at the end of a struggle). His body is seen later on when Federico's granddaughter (

Tamara Shanath

) revives Federico.
The Protector (Video, 1998) [Dr. Ramsey Krago]: Killed by Matt McColm (presuamably with one of his own plagues).
Titan A.E. (2000; animated) [Professor Sam Tucker]: Killed by the Drej (off-screen) sometime after Earth's destruction when he had to hide the Titan.
The King's Guard (2000) [Lord Morton]: Killed in a swordfight by Eric Roberts.
5ive Girls (2006) [Father Drake]: Stabbed in the chest by several crucifixes when the demon sends them flying at him. His body is shown again afterwards when Jennifer Miller discovers him.
Mutant Chronicles (2008) [Brother Samuel]: After being turned into a mutant, he is impaled on a sword (in the stomach/chest) by Thomas Jane, pinning him to a control console. He dies after the mutants ship takes off into orbit.
The Devil's Tomb (2009) [Wesley]: After being possessed by a demon, he is burned to death when Cuba Gooding, Jr. shoots a fuel barrel igniting an explosion. He dies as his daughter (Valerie Cruz) performs a ritual to free her father's soul, thereby sacrificing herself in the process.
Bunraku (2010) [Nicola "the Woodcutter"]: Stabbed in the neck with an arrow head by Josh Hartnett, who then slashes his throat as

Gackt

looks on. He dies as Josh states his true identity while standing over him.
Drive (2011) [Nino]: Drowned in the ocean by Ryan Gosling (at the end of a chase), on top of being severally hurt in a car wreck when Gosling intentionally hits his car off the road.
13 Sins (2014) [Detective Chilcoat]: Shot in the head by Mark Webber after Mark discovers Ron cleaning up a crime scene.
The Virginian (2014) [Judge Henry]: Shot in the chest by Victoria Pratt, as Ron was going to kill

Trace Adkins

.
Howard Lovecraft and the Frozen Kingdom (2016; animated) [Shoggoth]: Explodes when he sees the Elder Sign.
TV Deaths
[
]
Aladdin: Garden of Evil (1994; animated) [Arbutus]: Dies after Aladdin (voiced by Scott Weinger) tosses his sword to his rose/heart which causes his powers on trees and flowers to die instantly. He is presumably brought back to life after the episode ends after Aladdin and Jasmine (voiced by Linda Larkin) plant his rose on the grass.
Picture Windows: Lightning (1995) [Plummer]: Drowned in quicksand, while Kathleen Quinlan looks on, gleefully refusing to help him.
Godzilla: The Series: Leviathan (1998) [Leviathan Alien]: Killed in an explosion when the ship explodes.
Primal Force (1999 TV) [Frank Brodie]: Fatally injured while fighting the genetically-mutated baboons on the island.
Supreme Sanction (1999) [The Director]: Shot/Stabbed to death in a fight/shootout between

Kirsty Swanson

and Michael Madsen's cohorts.
Teen Titans: Masks (2003) [Slade]: An android duplicate of "Slade" is destroyed in an explosion after the real "Slade" activates its self-destruct mechanism. The real "Slade" survives the episode.
Teen Titans: Aftershock - Part 2 (2004) [Slade]: Dissolved in lava after being knocked into a chasm by Ashley Johnson. He is later resurrected by Kevin Michael Richardson as an undead being in the episode Birthmark and becomes human again in the episode The End - Part 3.
Teen Titans: Haunted (2004) [Slade]: Appearing as a hallucination to Scott Menville, he "dies" after Scott realizes that he isn't real, causing him to vanish.
Teen Titans: Things Change (2006) [Slade]: An android duplicate of "Slade" is deactivated at the end of a fight with Greg Cipes; the real "Slade" survives the episode.
Desperation (Stephen King's Desperation) (2006 TV) [Collie Entragian]: Dies after the spirit/entity abandons his body after possessing him.
Masters of Horror: Pro-Life (2006) [Dwayne Burcell]: Killed (off-screen) by Derek Mears, after Ron realizes Derek (portraying a demon) had tricked him into believing he heard the voice of God. We only hear Ron's scream from another room. (Thanks to Stephen)
Afro Samurai: Justice (2007; animated) [Justice]: Sliced into little pieces by Samuel L. Jackson after a sword duel.
Robot Chicken: Tell My Mom (2009; animated) [Handy Ball]: Dies (off-screen) from carbon monoxide poisoning (along with Donald Faison and

Matthew Senreich

) while attempting to build a machine to escape from a garage they were locked inside of by thugs.
Trollhunters: Where Is My Mind? (2016) [Bular]: Stabbed at the end of a battle by Anton Yelchin, he then falls of the bridge and turns mostly to stone. But then he jumps back on the bridge and is punched and shattered to pieces by

Charlie Saxton

.
Final Space (2018; animated) [John Goodspeed]: Incinerated when he enters black hole orbit by sacrificing himself
Video Game Deaths
[
]
True Crime: Streets of LA (2003) [Misha]: In the average ending, Russell Wong breaks his neck. He survives in the good and bad ending.
Gun (2005) [Mayor Hoodoo Brown]: Shot to death in a gunfight with Thomas Jane. His body flies out the window and lands on the ground. His corpse can be seen again in a standing tombstone in-game, which the player can mutilate.
Gallery
[
]