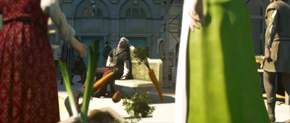 Roger Craig Smith (1975 - )
Not to be confused with Roger Smith.
Resident Evil: Degeneration (2008; animated) [Curtis Miller]: Falls to his death after being shot in the head by Paul Mercier during a struggle on the catwalk in Roger's virus monster form.
Assassin's Creed: Embers (2011; animated) [Ezio Auditore da Firenze]: Dies of a heart attack while sitting on a bench.
Superman: Red Son (2020; animated) [Batman]: Commits suicide by blowing himself up in order to become one of Jason Issacs's robots.
DC Showcase: The Phantom Stranger (2020; animated) [Harry/Ted]: Both got their Life force drained by Michael Rosenbaum.  Their bodies are discovered by Natalie Lander
Wolverine and the X-Men: Hindsight Part 3 (2009; animated) [Forge]: Although alive in the present, in the future he was killed during a war, and a tombstone with his name on it is shown, his death was later prevented in Foresight Part 3'.
Naruto Shippuden: Art (2012; anime) [Deidara]: Killed in an explosion when he uses a technique to become a suicide bomb during a fight with Yuri Lowenthal.
Community content is available under
CC-BY-SA
unless otherwise noted.