Line 73:
Line 73:
 
 
 

== Web Series Deaths ==

 

== Web Series Deaths ==

 
+

* '''''Meet the Sniper ''(2008) '''[''BLU Medic'']: Shot in the head by [[John Patrick Lowrie]].

 

* '''''[[Meet the Team (2007 Web Series)|Meet the Spy ]]''[[Meet the Team (2007 Web Series)|(2009)]]''' [''BLU Medic'']: Chopped in the throat by [[Dennis Bateman]].

 

* '''''[[Meet the Team (2007 Web Series)|Meet the Spy ]]''[[Meet the Team (2007 Web Series)|(2009)]]''' [''BLU Medic'']: Chopped in the throat by [[Dennis Bateman]].

 

* '''''[[Meet the Team (2007 Web Series)|Meet the Pyro ]]''[[Meet the Team (2007 Web Series)|(2012)]]''' [''BLU Medic'']: Burned by [[Dennis Bateman]].

 

* '''''[[Meet the Team (2007 Web Series)|Meet the Pyro ]]''[[Meet the Team (2007 Web Series)|(2012)]]''' [''BLU Medic'']: Burned by [[Dennis Bateman]].

 
+
 

==Gallery==

 

==Gallery==

 

{{DEFAULTSORT:Downes, Robin Atkin}}

 

{{DEFAULTSORT:Downes, Robin Atkin}}
---
Revision as of 17:36, 28 March 2020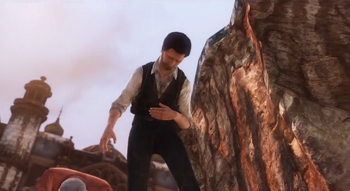 Robin Atkin Downes (1976 - )
Movie Deaths
TV Deaths
Star Wars: The Clone Wars: Lethal Trackdown (2010; animated) [Castas]: Shot by Aurra Sing (voiced by Jaime King) while speaking to Fong Do (voiced by James Arnold Taylor).
Star Wars: The Clone Wars: Supply Lines (2010; animated) [Cham Syndulla/Jedi Master Ima-Gun Di]: "Jedi Master Ima-Gun Di" is gunned by many battle droids (voiced by Matthew Wood) in order to buy the Twi'lek refugees to escape. "Cham Sydulla" lives.
Thundercats: Ramlak Rising (2011; animated) [Koinelius Tunar]: Supposeley died after being dragged into the sand of sea while attempting to killed Ramlak.
Thundercats: Native Son (2012; animated) [Javan]: Revealed to have died sometime before the events, he and his clan passed on to the next life after his Son: tygra (Matthew Mercer) forgives him and breaks the curse.
Ben 10: Ultimate Alien: A Knight to Remember (2011; animated) [Sir Cyrus]: Killed by Vilgax (James Remar)!
Star Wars: The Clone Wars: Crisis at the Heart (2013; animated) [Rush Clovis]: Let's himself fall to his death because Anakin Skywalker(Matt Lanter) couldn't pull both him and Padme Amedila(Catherine Taber). Not before telling her, he sorry for what happened.
Video Game Deaths
Star Wars Rogue Squadron III: Rebel Strike (2003) [Sarkli]: Shot down by "Han Solo" (voiced by Lex Lang) during a series of explosions in the bunker.
Haunting Ground (2005) [Lorenzo Belli]: Burned to death after Cornelia Hayes O'Herlihy and Hewie cause Robin to fall into a pit of lava.
Metal Gear Solid: Portable Ops (2006) [Jonathan]: Shot to death during a shootout while shielding David Hayter.
Syphon Filter: Logan's Shadow (2007) [Spec Ops soldier/Dane Bishop/Boomer]: The "Spec Ops soldier" dies of his gunshot wounds while talking to James Arnold Taylor. "Boomer" is accidentally killed when a piece of debris impales him after he detonates explosives. "Dane Bishop" survives the game.
Uncharted: Drake's Fortune (2007) [Atoq Navarro]: Sinked by Nolan North with a treasure and drowns.
F.E.A.R. 3 (2011) [Sergeant Michael Becket]: Dies from a bodily explosion after being possessed by Peter Lurie.
Uncharted 3: Drake's Deception (2011) [Talbot]: Shot to death by Nolan North; his body then falls into the crumbling city.
Asura's Wrath (2012) [Yasha]: Heart torn out by Robin himself so that he can transplant this to Liam O'Brien; he dies shortly after the final confrontation with Liam.
Metal Gear Solid V: The Phantom Pain (2015) [Kazuhira Miller]: A timeline at the end of the game reveals that Robin was killed (presumably by Troy Baker/Patric Zimmerman) more than two decades after the events of the game, in order for Cam Clarke to pose as Robin during the events of Metal Gear Solid (1998).
Uncharted 4: A Thief's End (2016) [Hector Alcazar]: Killed (off-screen) in a shoot-out, sometime before the game begins. He only appeared in a flashback when Troy Baker makes a false story, and his death is mentioned when Warren Kole reveals it to Nolan North.
Batman: The Enemy Within (2017) [The Riddler]: Shot in the neck with a toxic dart by an off-screen sniper (later revealed to be Valarie Rae Miller) while being interrogated by Troy Baker.
Web Series Deaths
Gallery
Community content is available under
CC-BY-SA
unless otherwise noted.