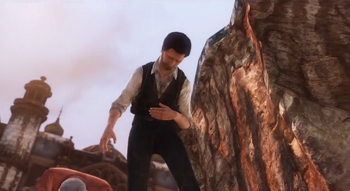 Robin Atkin Downes (1976 - )
Star Wars: The Clone Wars: Supply Lines (2010; animated) [Cham Syndulla/Jedi Master Ima-Gun Di]: "Jedi Master Ima-Gun Di" is gunned by many battle droids (voiced by Matthew Wood) in order to buy the Twi'lek refugees to escape. "Cham Sydulla" lives.
Thundercats: Ramlak Rising (2011; animated) [Koinelius Tunar]: Supposedly died after being dragged into the sand of sea while attempting to killed Ramlak.
Thundercats: Native Son (2012; animated) [Javan]: Revealed to have died sometime before the events, he and his clan passed on to the next life after Matthew Mercer forgives him and breaks the curse.
Ben 10: Ultimate Alien: A Knight to Remember (2011; animated) [Sir Cyrus]: Killed by James Remar.
Star Wars: The Clone Wars: Crisis at the Heart (2013; animated) [Rush Clovis]: Let's himself fall to his death because Matt Lanter couldn't pull both him and Catherine Taber. Not before telling Padme, he was sorry for everything.
Ducktales: Louie's Eleven (2020) [Falcon Graves]: Presumably dies when Tress MacNeille throws a vase in his face.
Star Wars Rogue Squadron III: Rebel Strike (2003) [Sarkli]: Shot down by "Han Solo" (voiced by Lex Lang) during a series of explosions in the bunker.
Haunting Ground (2005) [Lorenzo Belli]: Burned to death after Cornelia Hayes O'Herlihy and Hewie cause Robin to fall into a pit of lava.
Metal Gear Solid: Portable Ops (2006) [Jonathan]: Shot to death during a shootout while shielding David Hayter.
Syphon Filter: Logan's Shadow (2007) [Spec Ops soldier/Dane Bishop/Boomer]: The "Spec Ops soldier" dies of his gunshot wounds while talking to James Arnold Taylor. "Boomer" is accidentally killed when a piece of debris impales him after he detonates explosives. "Dane Bishop" survives the game.
Uncharted: Drake's Fortune (2007) [Atoq Navarro]: Sinked by Nolan North with a treasure and drowns.
Clash of the Titans the Video Game (2010) [Ixas/Townpeople]: "Ixas" is turned to Stone by Grey Griffin.
F.E.A.R. 3 (2011) [Sergeant Michael Becket]: Dies from a bodily explosion after being possessed by Peter Lurie.
Uncharted 3: Drake's Deception (2011) [Talbot]: Shot to death by Nolan North; his body then falls into the crumbling city.
Asura's Wrath (2012) [Yasha]: Heart torn out by Robin himself so that he can transplant this to Liam O'Brien; he dies shortly after the final confrontation with Liam.
Metal Gear Solid V: The Phantom Pain (2015) [Kazuhira Miller]: A timeline at the end of the game reveals that Robin was killed (presumably by Troy Baker/Patric Zimmerman) more than two decades after the events of the game, in order for Cam Clarke to pose as Robin during the events of Metal Gear Solid (1998).
Uncharted 4: A Thief's End (2016) [Hector Alcazar]: Killed (off-screen) in a shoot-out, sometime before the game begins. He only appeared in a flashback when Troy Baker makes a false story, and his death is mentioned when Warren Kole reveals it to Nolan North.
Batman: The Enemy Within (2017) [The Riddler]: Shot in the neck with a toxic dart by an off-screen sniper (later revealed to be Valarie Rae Miller) while being interrogated by Troy Baker.
Community content is available under
CC-BY-SA
unless otherwise noted.