Wiki Targeted (Entertainment)
Play Sound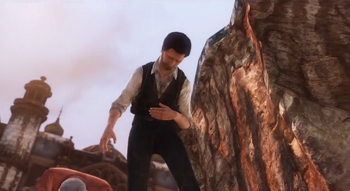 Robin Atkin Downes (1976 - )
Film Deaths
[
]
All-Star Superman (2011; animated) [Solaris]: Destroyed by Superman (James Denton).
Batman: Bad Blood (2016; animated) [Electrocutioner/Mad Hatter]: The Electrocutioner is shot in the back by Heretic (Travis Willingham), while he was about to kill Robin (Stuart Allan). The Mad Hatter is killed by a system overload caused in the ensuing battle between Batman's (Jason O'Mara) allies and Talia's (Morena Baccarin) henchmen halting the mind control process, the overload causing his head to explode.
TV Deaths
[
]
Star Wars: The Clone Wars: Lethal Trackdown (2010; animated) [Castas]: Shot by Aurra Sing (Jaime King) while speaking to Plo Koon (James Arnold Taylor).
Star Wars: The Clone Wars: Supply Lines (2010; animated) [Cham Syndulla/Jedi Master Ima-Gun Di]: Jedi Master Ima-Gun Di is gunned by many battle droids (Matthew Wood) in order to buy time for the Twi'lek refugees to escape. Cham Sydulla survives the episode.
Thundercats: Ramlak Rising (2011; animated) [Koinelius Tunar]: Supposedly died after being dragged into the sand of sea while attempting to killed Ramlak.
Thundercats: Native Son (2012; animated) [Javan]: Revealed to have died sometime before the events, he and his clan passed on to the next life after Tygra (Matthew Mercer) forgives him and breaks the curse.
Ben 10: Ultimate Alien: A Knight to Remember (2011; animated) [Sir Cyrus]: Killed by Vilgax (James Remar).
Star Wars: The Clone Wars: Crisis at the Heart (2013; animated) [Rush Clovis]: Falls to his death after letting go of Anakin (Matt Lanter) in order to allow him to save Padme (Catherine Taber).
Video Game Deaths
[
]
Star Wars Rogue Squadron III: Rebel Strike (2003) [Sarkli]: Shot down by Lex Lang during a series of explosions in the bunker.
Halo 2 (2004) [Prophet of Regret]: Beaten to death by

Steve Downes

. His body is later reanimated by Dee Bradley Baker.
Haunting Ground (2005) [Lorenzo Belli]: Burned to death after Cornelia Hayes O'Herlihy and Hewie cause Robin to fall into a pit of lava.
Metal Gear Solid: Portable Ops (2006) [Jonathan]: Shot to death during a shootout while shielding David Hayter.
Syphon Filter: Logan's Shadow (2007) [Spec Ops soldier/Dane Bishop/Boomer]: The Spec Ops soldier dies of his gunshot wounds while talking to James Arnold Taylor. Boomer is accidentally killed when a piece of debris impales him after he detonates explosives. Dane Bishop survives the game.
Uncharted: Drake's Fortune (2007) [Atoq Navarro]: Tied to a sinking treasure by Nolan North and drowns.
Clash of the Titans (2010) [Ixas/Townpeople]: Ixas is turned to Stone by Grey Griffin.
F.E.A.R. 3 (2011) [Sergeant Michael Becket]: Dies from a bodily explosion after being possessed by Peter Lurie.
Uncharted 3: Drake's Deception (2011) [Talbot]: Shot to death by Nolan North; his body then falls into the crumbling city.
Asura's Wrath (2012) [Yasha]: Heart torn out by Robin himself so that he can transplant this to Liam O'Brien; he dies shortly after the final confrontation with Liam.
Tomb Raider (2013) [Conrad Roth]: Dies after Robert Craighead throws an axe at his back, having previously becoming injured in a helicopter crash.
Web Series Deaths
[
]
Gallery
[
]