Robert Z`Dar (1950 - 2015)
A.K.A. Robert Darcy and Robert West
Film Deaths
Edit
Maniac Cop (1988) [Officer Matt Cordell]: Slashed to death by inmates in the prison shower; he comes back to life for revenge. (He reprised the role of the undead officer in the sequels Maniac Cop 2 (1990) and Maniac Cop 3: Badge of Silence (1993).) (Nudity alert: Rear)
Tango & Cash (1989) [Face]: Accidentally electrocutes himself with a transformer while attempting to kill Sylvester Stallone in a prison fight. (Thanks to ND, Derek, Tal and Zeppo)
Maniac Cop 2 (1990) [Matt Cordell]: Burned and then fallen from high-rise building to a bus only to get blasted to death with an explosion. He later comes back to life again from the Grave-coffin. (He reprised the role of the undead officer in the sequel Maniac Cop 3: Badge of Silence (1993).)
Quiet Fire (Video, 1991) [Russo]: Electrocuted to death after thrown into a transformer at the end of a fight with Lawrence Hilton-Jacobs.
In a Moment of Passion (1993) [Fritz Brumbacher]: Drowned when Maxwell Caulfield rolls him into a lake after kicking him in the head. (Thanks to Eric)
Red Line (Video, 1995) [Gene]: Killed when his car crashes while pursuing Chad McQueen.
Equal Impact (1995) [Ray Tobin]: Shot to death in a shoot-out with Joe Estevez's goons.
Stormy Nights (Video, 1996) [Alan]: Dies after drinking a poisonous wine tampered with by his girlfriend (Rachel Ostrom).
Future War (Video, 1997) [Cyborg Leader]: Blown up after a fight with Daniel Bernhardt inside a church.
No Rest for the Wicked (1998) [Dino]: Shot to death by Reginald Bernson when Robert tries to kill Reginald. (Thanks to Matt)
The Rockville Slayer (2006) [The Man]: Stabbed by one of his female captives while trying to convince her to kill the protagonists.
Meltdown (Video, 2009) [Crazy Eddie]: Shot by rival mobsters in a gang war.
Death From Above (2012) [Bronson]: Throat cut by a possessed Kurt Angle.
Former police officer and dancer.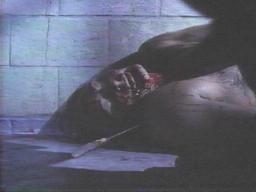 Community content is available under
CC-BY-SA
unless otherwise noted.