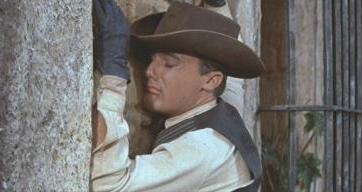 Robert Vaughn (1932 - 2016)
Film Deaths:
Edit
Good Day for a Hanging (1959) [Eddie 'The Kid' Campbell]: Shot to death in a shoot-out with Fred MacMurray.
The Magnificent Seven (1960) [Lee]: Shot in the chest as he walks out of a farmhouse during the final battle with the bandits.
The Spy with My Face (1965) [Napoleon Solo/The Impostor]: (This was a feature film edited from the TV episode The Double Affair.) (Thanks to Garrett)
The Bridge at Remagen (1969) [Major Paul Kreuger]: Executed by a firing squad. (Thanks to Garrett)
The Woman Hunter (1972) [Jerry Hunter]: Hit with a rock and knocked off of a cliff by Stuart Whitman as Robert is trying to kill Barbara Eden.
The Towering Inferno (1974) [Senator Gary Parker]: Falls to his death while trying to prevent the rescue chairlift from overloading. (Thanks to Garrett)
Battle Beyond the Stars (1980) [Gelt]: Killed in an explosion when his ship is shot down by John Saxon. (Thanks to Garrett)
Virus (Day of Resurrection; Fukkatsu no hi) (1980) [Sen. Barkely] Dies in the oval office of the virus.
Kill Castro (Cuba Crossing; Sweet Dirty Tony) (1980) [Hud]: Shot in the chest by Carl Williams in the woods, after Robert shoots Bert Williams.
Superman III (1983) [Ross Webster]: Possibly killed (off-camera) in a cave-in when the giant computer explodes. (we don't see him alive after, according to sources, his status is unknown. But I'll list it just in case) (Thanks to Garrett)
Black Moon Rising (1986) [Ed Ryland]: Fatally struck down by the speeding titular showcar. 
Zombie 5: Killing Birds (Killing Birds: uccelli assassini; Dark Eyes of the Zombie; Raptors) (1987) [Dr. Fred Brown]: Pecked to death/torn apart (off-screen) by a flock of birds; we only hear him screaming. (Thanks to Andrea)
C.H.U.D. II: Bud the Chud (1989) [Colonel Masters]: Bitten (off-screen) by a zombie(s) (presumably his fellow zombie officer who drives him); he is shown as a zombie at the end of the movie. (Thanks to Robert)
Buried Alive (Edgar Allan Poe's Buried Alive) (1990) [Dr. Gary]: Buried alive when John Carradine pulls him beneath.
Television Deaths:
Edit
The Man from UNCLE: The Double Affair (1964) [Napoleon Solo/The Impostor]: Playing a dual role as both "Napoleon Solo" and a THRUSH spy, the double is shot to death by Senta Berger while the real one and the double are fighting each other. (Thanks to Garrett)
Community content is available under
CC-BY-SA
unless otherwise noted.