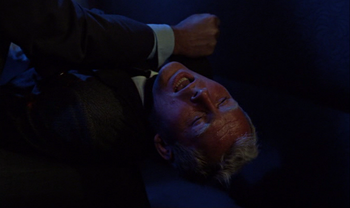 Robert Shaw (1927 - 1978)
Playwright/novelist
A Hill in Korea (1956) [L/Cpl. Hodge]: Manning a Bren gun against a full frontal assault, he is killed when one of the Chinese soldiers survives and manages to hurl a grenade with deadly effect. (Thanks to Brian)
From Russia with Love (1963) [Donald 'Red' Grant]: Garroted with his own wire at the end of a struggle with Sean Connery in the train compartment after Sean broke free from Robert's wire by stabbing him in the arm with a knife. (Thanks to Larry, Thomas, Stephen, Kyle, and Kenneth)
Battle of the Bulge (1965) [Colonel Martin Hessler]: Killed in an explosion when his tank blows up while trying to capture an American fuel depot. (Thanks to Thomas and Stephen)
Custer of the West (A Good Day for Fighting) (1967) [General George Armstrong Custer]: Killed by the Sioux warriors, after they killed all his men. (obviously, in real life Custer was not the last man standing in his final battle) (Thanks to Larry and Stephen)
Figures in a Landscape (1970) [MacConnachie]: Machine-gunned to death by a helicopter after Robert decides to have a last stand with it after being chased by the helicopter the entire film.
Young Winston (1972) [Lord Randolph Churchill]: Dies (off-screen) of a long-suffering disease (I forget the mention of what it was).
Jaws (1975) [Quint]: Eaten (first bitten in half) by the shark while Roy Scheider looks on in horror. (Thanks to Larry, Thomas, Stephen, Mike, Patrick, Keenan, Kyle, John, and Kenneth)
Community content is available under
CC-BY-SA
unless otherwise noted.