Robert Ryan (1909 - 1973)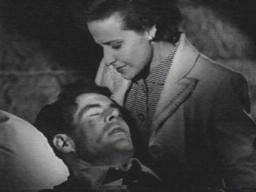 Tender Comrade (1943) [Chris Jones]: Killed in combat (off-screen); we learn of his death when Ginger Rogers receives a telegram informing her.
Crossfire (1947) [Montgomery]: Shot to death by Robert Young while trying to escape.
Return Of The Badmen (1948) [The Sundance Kid]: Killed by Randolph Scott as they tussle for a gun in a static camera shot and go below its view. A shot is heard and Scott stands up with the gun (Thanks to Brian)
The Woman on Pier 13 (I Married a Communist) (1949) [Brad Collins a.k.a. Frank Johnson]: Shot in the stomach in a shoot-out with Thomas Gomez in a warehouse; he dies in Laraine Day's arms shortly afterwards.
The Racket (1951) [Nick Scanlon]: Shot to death by William Conrad when Robert tries to escape.
Horizons West (1952) [Dan Hammond]: Shot dead in the climactic shootout by Walter Reed. (Thanks to Brian)
The Naked Spur (1953) [Ben Vandergroat]: Shot to death by Ralph Meeker just as Robert is about to kill James Stewart (just after James throws his spear into Robert's face); his body then falls over the cliff and into the river. Ralph later retrieves Robert's body and James brings it back into town. (Thanks to Stephen)
About Mrs. Leslie (1954) [George Leslie Hendersoll]: Killed in combat (off-screen); we learn of his death when Shirley Booth reads the news.
Alaska Seas (1954) [Matt Kelly]: Shot in the side and then stabbed by Gene Barry. (If he wasn't yet dead, he would definitely be finished off when the boat collided with an avalanche).
Bad Day at Black Rock (1955) [Reno Smith]: Burned to death when Spencer Tracy throws a Molotov cocktail at him.
House of Bamboo (1955) [Sandy Dawson]: Shot in the chest in a shoot-out with Robert Stack.
Odds Against Tomorrow (1959) [Earle Slater]: Killed in an explosion, along with Harry Belafonte, in a shoot-out at an oil refinery. Their bodies are shown afterwards (covered by sheets) lying on the ground as the police clear up the scene.
Hour of the Gun (1967) [Ike Clanton]: Shot to death in a shoot-out with James Garner. (Historically inaccurate because the real Ike Clanton was gunned down by detective Jonas V. Brighton in 1887 and not Wyatt Earp) (Thanks to Stephen)
Custer of the West (1967) [Sgt. Mulligan]: Executed by firing squad for desertion.
And Hope to Die (La course du lievre a travers les champs) (1971) [Charley Ellis] Already mortally wounded due to being shot in the stomach, he is shot to death off-screen after having a stand-off with the police.  The film ends before his fate is shown, but the building he is in, is being constantly barraged with bullets. 
Mrs. Jessica Cadwalader (widowed)
Community content is available under
CC-BY-SA
unless otherwise noted.