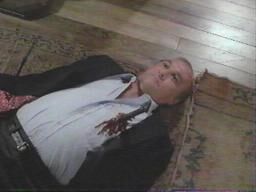 Robert Loggia (1930 - 2015)
The Lost Missile (1958) [Dr. David Loring]: Killed in an explosion when he sacrifices himself to destroy the missile. (Thanks to Stephen)
The Believers (1987) [Lieutenant Sean McTaggert]: Commits suicide by shooting himself in the mouth after having a voodoo curse placed on him; the scene cuts away as Robert puts the gun in his mouth, and we hear the shot as Martin Sheen walks away. (Thanks to Stephen)
Innocent Blood (1992) [Sallie 'The Shark' Macelli]: Bitten on the throat and drained of blood by Anne Parillaud. He later returns as a vampire, and later explodes after being set on fire in a car crash caused by Anthony LaPaglia. (Thanks to ND)
Wide Awake (1998) [Grandpa Beal]: Dies (off-screen) of a heart attack while talking to his grandson (Joseph Cross) some time before the story begins; Robert only appears in flashbacks. (Thanks to Tommy)
Rawhide: Incident of the Comancheros (1963) [Maria Jose Chappala]: Presumably tortured to death by Comancheros when he rides out of the cattle drive before they attack the scene ends with Robert riding away with the Comancheros closing on him.
The Wild Wild West: The Night of Sudden Death (1965) [Warren Trevor]: Eaten by an alligator when he falls into the lake at the end of a fight with Robert Conrad.
The Big Valley: The Profit and the Lost (1968) [Vern Hickson]: Shot in the chest by Lee Majors, just as Lee thought he was going to draw his gun him at hit Bert Freed instead.
The High Chaparral: The Deceivers (1968) [Chio]: Fighting on an out of control freight wagon, he is punched into the traces of the rear horses by Henry Darrow, as he slips to the ground he is trampled to death. (Thanks to Brian)
The High Chaparral: The Forge Of Hate (1970) [Grey Wolf]: Leader of a band of renegade apaches, they are attacking the Cannon family when Apache chief Michael Baseleon rides up. The attack ends and they parley, then Loggia's body stiffens up and he falls dead off his horse. As there was no wound he must have had a heart attack. (Thanks to Brian)
Magnum P.I.: Don't Eat The Snow In Hawaii (1980) [Phillippe "La Bulle" Trusseau]: Shot dead in the airport restroom by Tom Selleck. (Thanks to Brian)
Little House on the Prairie: Rage (1982) [Thomas Stark]: Shot to death (off-camera), but he was eventually defeated by the wits and ingenuity of Laura and Jenny.
Intrigue (1988 TV) [Higbe]: Killed by an assassin, he dies Scott Glenn's arms after Scott returns to the park bench.
The Outer Limits: Final Appeal (2000) [Justice Earl Clayton]: Killed in an explosion (along with everyone else in the room) after Wallace Langham leaves a bomb in the courtroom. (Thanks to Neil)
Touched by an Angel: Restoration (2000) [Chandler Crowne]: Dies of old age, after finally telling a film student, Noelle Parker, the real reason he changed the title of his watershed film 80 years ago.
Community content is available under
CC-BY-SA
unless otherwise noted.