Wiki Targeted (Entertainment)
Play Sound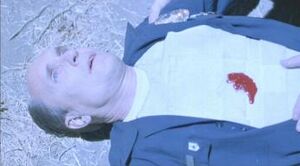 Robert Duvall (1931 - )
Invasion of the Body Snatchers (1978) [Priest on Swing]: Possibly replaced (off screen) by an alien duplicate prior to the events of the film. The early scene of children picking pods is shot from Robert's POV, with the strong implication that he was an early "pod person" (even if Robert was still human in this scene, it's quite likely that he was eventually replaced along with most of the rest of the city's population later on).
The Great Santini (1979) [Lt. Col. 'Bull' Meechum]: Killed in a plane crash.
Colors (1988) [Officer Bob Hodges]: Shot in the lower chest by Gerardo Mejia while the police are arresting the gang; he dies shortly afterwards as Sean Penn kneels by his side.
Deep Impact (1998) [Captain Spurgeon 'Fish' Tanner]: Killed in an explosion (along with the rest of the shuttle crew) when they sacrifice themselves by piloting the shuttle into the comet to save the earth.
The 6th Day (2000) [Dr. Griffin Weir]: Shot in the head by Tony Goldwyn after Robert threatens to expose the cloning operation. His memories are later implanted in a clone of Tony, which also dies when he falls to his death through a glass ceiling.
Secondhand Lions (2003) [Hub]: Killed (offscreen) in a plane crash, along with Michael Caine, when they try to fly their biplane upside-down through a barn door; we only see the wreckage afterwards.
Get Low (2009) [Felix Bush]: Dies of unspecified causes; we later see his funeral.
Wild Horses (2015) [Scott Briggs]: Dies of a heart attack as he's driving back to his ranch.
T.H.E. Cat: Crossing at Destino Bay (1966) [Scorpio] Falls off of a scaffold after being shot in a gunfight with Robert Loggia.
Lonesome Dove (1989 miniseries) [Augustus 'Gus' McCrae]: Dies of gangrene after being shot in the leg with arrows and refusing to let the doctor amputate; Tommy Lee Jones then carries his body back to Lonsome Dove. (Thanks to Rick)
Stalin (1992 TV) [Joseph Stalin]: Dies of cerebral hemorrhage following a stroke, with his family and various military and government officials gathered by his bedside. (Thanks to Matt and Stephen)
The Man Who Captured Eichmann (1996 TV) [Adolf Eichmann]: Executed (off-screen) by hanging in Israel on May 31st, 1962. His execution is mentioned in the onscreen text at the end of the film.
Community content is available under
CC-BY-SA
unless otherwise noted.