Wiki Targeted (Entertainment)
Play Sound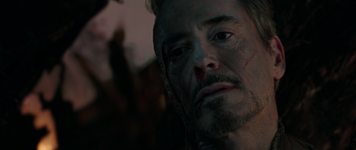 Robert Downey Jr. (1965 - )
Film Deaths
[
]
Greaser's Palace (1972) [Boy]: Throat slit off-screen, along with that of his father, by an unknown assailant, later implied to be done by Woody Chambliss' divine powers. His body is shown afterwards when his mother Elsie Downey discovers him, and again when she buries him. He is later brought back to life after Allan Arbus is crucified.
Chaplin (1992) [Charles Spencer Chaplin]: Dies off-screen of old age/natural causes, some time after the final scene.  His death is mentioned in the on-screen text at the end of the movie. (Thanks to Tommy)
Danger Zone (1996) [Jim Scott]: Neck snapped by Cary-Hiroyuki Tagawa on top of being shot repeatedly by Cary, as Billy Zane looks on. His body is shown afterwards lying on the ground. (Thanks to Rachel and ND)
The Singing Detective (2003) [Dan Dark]: Shot in the head by his alter-ego  in a symbolic hallucination sequence; we see the bullet's point-of-view as it rushes towards Robert.
Zodiac (2007) [Paul Avery]: Dies off-screen of emphysema, some time after the story ends; his death is mentioned in the on-screen text at the end of the movie. (Thanks to Thomas, Mathew, Arben, and Tommy)
TV Death
[
]
Saturday Night Live (Nov. 9, 1985) [Yuppie]: In the "Where You're Going" commercial parody, he dies off-screen of unspecified circumstances, along with the other yuppies. They are seen burning in Hell. (Played for comic effect.)
Saturday Night Live (May 24, 1986) [Himself]: Burned to death, alongside most of the cast and crew, when

Billy Martin

douses the room with gasoline and lights it on fire before the good-nights. Everyone can be seen running and screaming around the smoky room as the credits roll in a cliff-hanger parody. They don't die on-screen, but their fates are clear. This lampoons the season 11's (1985-86) cast which was not well-received and criticized for not gelling together into a comedic ensemble. Only Jon Lovitz, Nora Dunn and Dennis Miller would make it back to the next season. (Played for comic effect.)
Gallery
[
]
Notable Connections
[
]