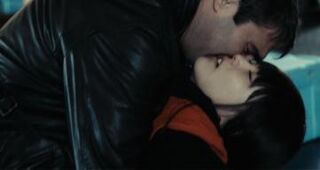 Rinko Kikuchi (1981 - )
Film Deaths
Edit
The Brothers Bloom (2008) [Bang Bang]: Possibly killed in an explosion by a car bomb, as Adrien Brody and Rachel Weisz look on in shock. The movie leaves it up to the viewer's interpretation as to whether Rinko was actually killed, or whether she planted the bomb herself to fake her own death. (Since it's ambiguous, I'm listing it here just in case.)
Map of the Sounds of Tokyo (2009) [Ryu]: Shot in the back by Hideo Sakaki when Hideo shoots at Sergi Lopez and Rinko turns Sergi around to take the bullet for him. (Thanks to Publius)
Shanghai (2010) [Sumiko]: Dies by overdose in bed as a mercy killing. (Nudity: Rear)
47 Ronin (2013) [Mizuki]: Playing a shape-shifting witch, Rinko is stabbed in the head by Keanu Reeves at the end of a fight while she is the form of a dragon; her body reverts to human form before she expires.
Kumiko, The Treasure Hunter (2014) [Kumiko]: Likely freezes to death (off-screen) while searching for the non-existent bag of money in the snow. The film ends with Rinko supposedly finding the money, but given the real-life implications and logical leaps of the ending, it's likely that this is a dying dream.
Terra Formars (2016) [Askuka Moriki]: Punched through the stomach by one of the giant cockroach aliens when then snap her into two. 
Pacific Rim: Uprising (2018) [Mako Mori]: Killed in the explosion after her helicopter got shot down by Jaeger Obsidian Fury. Rinko's adopted brother John Boyega (inside of 'gypsy') attempt to catch the helicopter but failed to catch it.
Community content is available under
CC-BY-SA
unless otherwise noted.