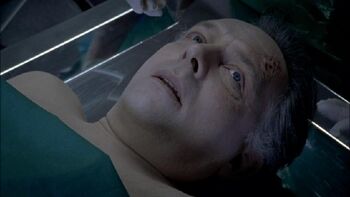 Rik Mayall (1958 - 2014)
Film Deaths:Edit
The Princess And The Goblin (1992; animated) [Prince Froglip]: Falls to his death from a waterfall after Curdie (Peter Murray) stomps on his foot then kicks him off a cliff.
Harry Potter and the Sorcerer's Stone (2001) [Peeves the Poltergeist]: Although he was cut from the finished film, he portrayed a ghost. (It's debatable whether or not this "counts," since his scenes did not appear in the actual film, but I'll list it just in case.)
TV Deaths:Edit
The Young Ones: Summer Holiday (1984) [Rick]: Killed in an explosion (along with Adrian Edmondson, Nigel Planer, and Christopher Ryan) when their bus blows up shortly after going over a cliff, immediately after they survive the crash and exclaim "Whew, that was close!" (Due to the series' comedic nature, it's unclear whether or not this was intended to be fatal; however, since it was the final episode of the series, I'll list it just in case.)
Bottom: Hole (1995) [Richard 'Richie' Richard]: Falls to his death (along with Adrian Edmondson) from a collapsing ferris wheel; as the wheel collapses, they are saved by the Hand of God, which immediately disappears when they remember that they don't believe in God. (Despite the height of their fall, they returned unharmed without explanation in the next episode.) (Played for comic effect.)
Bottom: Carnival (1995) [Richard 'Richie' Richard]: Shot repeatedly (along with Adrian Edmondson) by SAS agents during a raid on Adrian and Rik's apartment, after Adrian and Rik attempt to blackmail the Prime Minister of England. (This was the final episode of the series, although Adrian and Rik did reprise the characters in several stage shows subsequently.) (Again, played for comic effect.)
Midsomer Murders: The Creeper (2009) [David Roper]: Smothered with a pillow by Jenny Agutter and Barbara Jefford, after Barbara places several codeine pills in his mouth while he's lying semi-conscious in bed. His body is shown again afterwards as John Nettles and Jason Hughes investigate the scene, and again later on in the morgue as Barry Jackson examines him.
Noteworthy Connections:Edit
Mr. Barbara Robbin.
Father of Rosie, Sydney, and Bonnie Mayall.