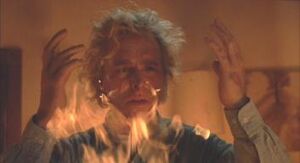 Richard Lynch (1940 - 2012)
God Told Me To (Demon) (1976) [Bernard Phillips]: Killed by Tony Lo Bianco after Richard reveals his half-alien nature.
The Ninth Configuration (Twinkle, Twinkle, Killer Kane) (1980) [2nd Cyclist]: Beaten to death in a bar fight with Stacy Keach.
The Sword and the Sorcerer (1982) [Titus Cromwell]: Killed by Lee Horsley.
Savage Dawn (1985) [Reverend Roman] Run over by a tank as he tries to escape from the car he's trapped in.
The Barbarians (1987) [Kadar] Has a sword thrown into his stomach.  
Bad Dreams (1988) [Harris]: Burned to death, along with the rest of his followers (apart from Jennifer Rubin, who survives), when they douse themselves with gasoline and set the cabin on fire as a mass suicide. He appears to Jennifer periodically throughout the rest of the movie, but it's eventually revealed that Richard's "ghost" was just a hallucination induced by Harris Yulin's psychological manipulation and drugs.
Alligator II: The Mutation (1991) [Hawk Hawkins]: Eaten by the alligator.
Trancers II (1991) [Dr. Wardo]: Stabbed in the chest when Tim Thomerson throws a pitchfork at him.
Maximum Force (1992) [Max Tanabe]: Falls to his death, landing on a car, after being shot by Sam Jones as Richard dangles from a helicopter ladder.
Necronomicon: Book of the Dead (1993) [Jethro De la poer]: Commits suicide by jumping off the roof of the mansion many years before the first segment began.
Scanner Cop (1994) [Karl Glock] Head explodes after Daniel Quinn uses his powers on him.
Hunter: The Legion: Part 2 (1989) [Frank Lassiter]: Shot by Fred Dryer and fell through glass roofs.
Murder, She Wrote: Amsterdam Kill (1994) [Philip de Kooning]: Stabbed in the chest by Marcus Gilbert. His body is shown afterwards when Angela Lansbury discovers him, and the murder is shown in a flashback later on.
Terminal Virus (Last Chance) (1995 TV) [Callaway]: Killed in an explosion when Susan Africa fires at the fuel drums beside him, as he tries to escape from the camp. (Thanks to Stephen)
Community content is available under
CC-BY-SA
unless otherwise noted.