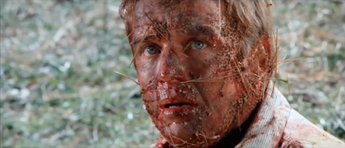 Richard Jaeckel (1926 - 1997)
Battleground (1949) [Bettis]: Killed when he is too slow collecting his kit to follow John Hodiak out the door and the building gets destroyed in a bombardment. (Thanks to Brian)
The Gunfighter (1950) [Eddie]: Shot to death in a gunfight with Gregory Peck in the saloon.
Apache Ambush (1955) [Lee Parker]: Shot by Alex Montoya; he dies shortly afterwards while talking to his sister (Adelle August).
The Violent Men (The Bandits; Rough Company) (1955) [Wade Matlock]: Shot to death by Glenn Ford in a saloon. (Thanks to Gordon)
When Hell Broke Loose (1958) [Karl]: Hit on the head with a rock by Charles Bronson after a fight. (Thanks to Brian)
Once Before I Die (1965) [Lieutenant Custer]: Shot in the back by a Japanese soldier while Richard is sitting on the side of a boat with Ursula Andress. (Thanks to Brian)
The Devil's Brigade (1968) [Pvt Omar Greco]: Machine-gunned by the Germans and falls off the cliff face during the big attack. (Thanks to Brian)
Sometimes a Great Notion (Never Give an Inch) (1971) [Joe Ben Stamper]: Drowned when the river rises over his head after he's pinned by a log, while his brother (Paul Newman) tries to free him.
Grizzly (Claws; Killer Grizzly) (1976) [Arthur Scott]: Mauled to death by the bear. (Thanks to Michael)
Mako: The Jaws of Death (The Jaws of Death; Killer Jaws) (1976) [Sonny Stein]: Eaten by his sharks, after he's shot by police and the sharks smell the blood. (Thanks to Paul)
Blood Song (Dream Slayer) (1982) [Frank, Marion's Father]: Hacked to death with an axe by Frankie Avalon in Richard's living room, while Richard shouts to his daughter (Donna Wilkes) to get out and save herself. (Thanks to Michael)
Community content is available under
CC-BY-SA
unless otherwise noted.