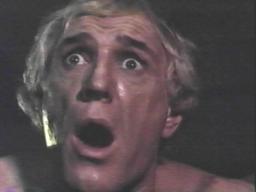 Richard Harris (1930 - 2002)
Film Deaths
Shake Hands with the Devil (1959) [Terence O'Brien]: Shot repeatedly in a shoot-out with English soldiers on the docks.
Major Dundee (1965) [Captain Benjamin Tyreen]: Shot to death by the French cavalry as he charges them after being wounded. (Thanks to Brian and Vegeta)
The Deadly Trackers (1973) [Sheriff Sean Kilpatrick]: Shot to death by Al Lettieri. (Thanks to Gordon)
Orca (Orca: The Killer Whale) (1977) [Captain Nolan]: Hurled at an iceberg when the whale flips its tail and sends him flying through the air. (Thanks to Phantom31)
The Wild Geese (1978) [Captain Rafer Janders]: Machine-gunned by Richard Burton (at his own request), to spare him from being hacked to death by the pursuing African warriors. (Thanks to Tim and Brian)
Tarzan, the Ape Man (1981) [James Parker]: Impaled through the torso with an elephant tusk; he dies after delivering a lengthy last speech to his daughter (Bo Derek). (Thanks to PortsGuy)
Your Ticket Is No Longer Valid (Finishing Touch; A Slow Descent into Hell) (1981) [Jason]: Stabbed in the back with a stickpin by Jeanne Moreau, while he's making love with Jennifer Dale.
Smilla's Sense of Snow (1997) [Andreas Tork]: Drowned when he falls from an ice floe, after being stabbed with a harpoon. (Thanks to Matt)
To Walk with Lions (1999) [George Adamson]: Shot repeatedly (along with several of his staff members) by poachers/bandits as he tries to run them down, he dies after staggering out of his land drover, with his body later seen when John Michie holds him in his arms.
Gladiator (2000) [Marcus Aurelias]: Suffocated when Joaquin Phoenix presses Richard's face against Joaquin's chest in their tent, after Richard angers Joaquin that he will never become emperor. (historical fact: Aurelias died from some natural disease, reputably smallpox).
TV Deaths
The Apocalypse (San Giovanni: L'apocalisse) (2002 TV) [John the Apostle] Dies of old age. (Thanks to Gordon)
Noteworthy Connections
Community content is available under
CC-BY-SA
unless otherwise noted.