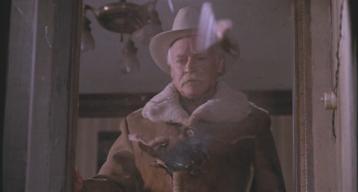 Richard Farnsworth (1920 - 2000)
Deaths in Film
Edit
The Cowboys (1972) [Henry Williams]: Shot to death in the final battle between the teenage cowboys and the outlaws. (I couldn't actually spot Richard during the chaotic battle, but it's clear that all the outlaws were killed.)
The Life and Times of Judge Roy Bean (1972) [Outlaw]: Shot to death (along with the rest of the outlaw gang) by Paul Newman, when Paul returns to the saloon after having been left for dead. (I couldn't tell which outlaw was Richard, but the entire gang is killed.)
Comes a Horseman (1978) [Dodger]: Fatally injured when he falls off his horse in a dynamite blast; he dies offscreen off his injuries and his body is shown afterwards followed by a scene of his funeral.
Misery (1990) [Sheriff John T. 'Buster' McCain]: Shot in the back with a shotgun by Kathy Bates as Richard is coming down the stairs to help James Caan (his body is later seen on the steps as Bates walks past him). (Thanks to Tal, Adam, Nancy, Bryan, and Tommy)
Deaths in Television
Edit
Cimarron Strip: Journey To A Hanging (1967) [Dusty Rhodes]: Fatally shot in the stomach by the townsfolk during the botched bank robbery, he dies in the robbers' hideout a little later. (Thanks to Brian)
Anne of Green Gables (1985; TV movie) [Matthew Cuthbert]: Dies of a heart attack while working in the fields with Megan Follows. (Thanks to Ralph and Bryan)
Stunt Work
Edit
As a professional stunt performer, Richard has also "died" in place of other actors, including (but not limited to):
Noteworthy Connections
Edit
Father of Diamond Farnsworth
Grandfather of Courtney Farnsworth
Community content is available under
CC-BY-SA
unless otherwise noted.