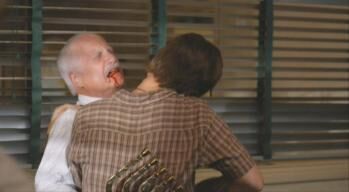 Richard Dreyfuss (1947 - ) 
Film Deaths
The Young Runaways (1968) [Terry]: Killed in a car accident after stealing a car.
Whose Life Is It Anyway? (1981) [Ken Harrison]: After being left a quadriplegic in a car wreck, Richard expresses his desire to go home and be taken off life support. While the ending is ambiguous as to what happens to him when he leaves the hospital, it's strongly implied that his wish will be granted.
Always (1989) [Pete Sandich]: Killed in a plane crash (when his plane catches fire and explodes) after saving John Goodman's life; he appears as a guardian angel throughout the rest of the film before finally moving on to Heaven.
Who is Cletis Tout? (2001) [Micah Tobias]: Shot by hitmen; he dies of his wounds shortly afterwards talking to Christian Slater.
Leaves of Grass (2009) [Pug Rothbaum]: Stabbed/cut down the torso by Edward Norton (as "Brady") in a fight in Richard's office.
Piranha 3D (2010) [Matt Boyd]: Devoured by piranha after he falls off his boat during a whirlpool brought along in an earthquake (which, in turn, releases hundreds of piranha into the area). His mutilated body is discovered washed up on the shore by Elisabeth Shue and Ving Rhames.
RED (2010) [Alexander Dunning]: Suffocates, when Bruce Willis strikes his neck/windpipes hard, crushing it. (also not knowing that Karl Urban had uncuffed Willis on one hand). He is then shot by John Malkovich to make sure he's dead.
TV Deaths
Victory at Entebbe (1976) [Col. Yonatan 'Yonni' Netanyahu]: Shot by a sniper, while rescuing the hostages.
Tin Man (2007 miniseries) [Mystic Man]: Life force drained by Kathleen Robertson after she interrogates him.
Notes: it is NOT true that a scene was filmed for Jaws where his character "Matt Hooper" gets eaten. His character Fagin in the Oliver Twist 1997 tv film doesn't get hung.
Noteworthy Connections
Community content is available under
CC-BY-SA
unless otherwise noted.