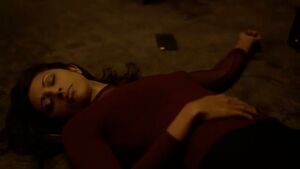 Reshma Shetty
(1977 - )
TV Deaths
Edit
Instinct: Trust Issues (2019) [Maya Bhaduri]: Murdered off-screen in Naveen Andrews' hotel room by a member of a terrorist group trying to shut down New York City's first responders' unit, who injects her with a nerve agent. Her body is discovered by both Andrews, who received a text from her 45 minutes prior and Alan Cumming. Due to the series' cancellation near the end of its second season, her killer is never found or brought to justice.
She-Ra and the Princesses of Power: The Portal (2019) [Queen Angella]: Presumably killed in an explosion when she sacrifices her life to close Hordak's portal threatening Athera. Her last words to Adora are "Take care of each other," referring to Then-Princess Glimmer, Adora and their friends and allies. A pre-recorded Star Wars-like hologram of her appears to Now-Queen Glimmer, Adora & Bow in the 4th season's premiere "The Coronation". It's said by Princess Entrapta that whoever removes the sword from the portal is trapped between dimensions, maybe forever, which is presumably what happened to Angella. Given the series finale showed no sign of her, other than Glimmer's vision of her that helps her save her Father King Micah, it's possible she is trapped, or she died in the explosion in "The Portal". Either way, her fate is a matter of interpretation. However, Adora suggests that she, along with Glimmer, Bow and a reformed Catra make one last road trip to bring magic back to the universe, possibly suggesting that they also find Angella and bring her back. Series creator Noelle Stevenson has said that she's open to doing a follow up special, which may have them finding Angella and Bringing her back.[1]
Notable Connections
Edit
Mrs. Deep Katdare (Actor, producer and financer)
Mother of Ariya Eliana Katdare (Born October 6th, 2015)
References
Edit
Community content is available under
CC-BY-SA
unless otherwise noted.