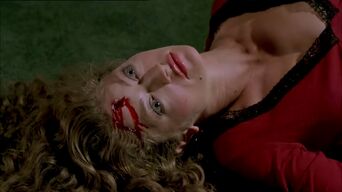 Rebecca Gayheart (1971 - )
Once Upon a Time in Hollywood (2019) [Billie Booth]: Dies off-screen and possibly murdered by Brad Pitt. We simply see Brad aim a speargun at her while on a boat, and we are informed throughout the film that Brad's character got away with murder. 
Dead Like Me: Curious George (2003) [Betty Rhomer]: Her skeletal "body" (obviously a dummy) is shown in a flashback when her "undead" self digs up her own grave to retrieve her ring.
Dead Like Me: Reaping Havoc (2003) [Betty Rhomer]: Killed by the impact when she jumps off a cliff into a river, in a flashback showing how she died and became a "grim reaper". Her spirit walks out onto the shore and has a conversation with Mandy Patinkin before she notices her own body floating in the water. (Rebecca's undead self also "dies" at the end of the episode when she decides to follow another spirit to the other side, after saying goodbye to Ellen Muth).
Community content is available under
CC-BY-SA
unless otherwise noted.