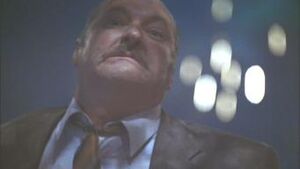 Randy Quaid (1950 - )
Parents (1989) [Nick Laemle]: Crushed to death when a wine-rack falls on him in the cellar, after being stabbed in the shoulder by Bryan Madorsky and in the back by Mary Beth Hurt (just before the house explodes from an ignited gas leak). (Thanks to Kyle and Scott)
Freaked (Hideous Mutant Freekz) (1993) [Elija C. Skuggs]: Machine-gunned by Alex Winter on a talk-show set, after Randy has transformed into Brooke Shields. (After Brooke's true identity is revealed, she speaks with Randy's voice dubbed in. Due to the dual-cast nature of the role, I'm listing it under both performers.) (Thanks to Rodzilla)
Independence Day (1996) [Russell Casse]: Killed in an explosion when he deliberately crashes his plane into an alien spaceship. (An alternate version of this scene has Quaid in a crop-duster plane with a bomb attached instead of a fighter jet, which was changed because they felt this sucked the drama out of the scene.) (Thanks to Tal)
Woman Undone (1996) [Allan Hansen]: Shot in the head by Mary McDonnell while Randy is trapped inside a burning station wagon. (Thanks to Drew)
Black Cadillac (2003) [Charlie]: Drowned along with his brother when his car crashes into a frozen river (after driving off a cliff at the end of a chase). (Thanks to Vinicius)
Real Time (2008) [Reuben]: Commits suicide by shooting himself in the head after he reveals he has a tumor just as he appears he's about to shoot Jay Baruchel.
Balls Out: Gary the Tennis Coach (2009) [Coach Lew Tuttle]: Dies of a heart attack while teaching his class; Randy appears later reincarnated as a bird to give advice to Seann William Scott, and a bird with Randy's face on it appears in the final photo of the tennis team.
Star Whackers (2011) [Randy Quaid/Star Whacker/Boss]: Playing three roles, "Randy Quaid" gets shot in the chest by the "Star Whacker". He then gives a monologue before dying and is seen in the afterlife. (Nudity alert: Full frontal)
Of Mice and Men (1981 TV) [Lenny Small]: Shot in the back of the head by Robert Blake.
Saturday Night Live (Nov. 9, 1985) [Yuppie]: In the "Where You're Going" commercial parody, he dies off-screen of unspecified circumstances, along with the other yuppies. They are seen burning in Hell. (Played for comic effect.)
Saturday Night Live (Nov. 16 , 1985) [Ross Dalrymple]: A commercial parody about a super glue shows Randy at various points in time with a board glued to his head, talking about how good the glue is. The final portion of it indicates he has passed on when it shows his son (Anthony Michael Hall) holding his father's skull, with the board still attached. (Played for comic effect.)
Saturday Night Live (Feb. 15, 1986) [Leon]: In the "Sore Big Toe" sketch, he accidentally hangs himself off-screen when he walks downstairs into the basement on his big toe and trips. His death is revealed when Jerry Hall comments on it after she looks into the basement. (Played for comic effect.)
Saturday Night Live (May 24, 1986) [Himself]: Burned to death, alongside most of the cast and crew, when Billy Martin douses the room with gasoline and lights it on fire before the good-nights. Everyone can be seen running and screaming around the smoky room as the credits roll in a cliff-hanger parody. They don't die on-screen, but their fates are clear. This lampoons Season 11's (1985-86) cast which was criticized for not gelling together into a comedic ensemble, and only Jon Lovitz, Nora Dunn and Dennis Miller would make it back for the next season. (Played for comic effect.)
LBJ: The Early Years' (1987 TV) [Lyndon Baines Johnson]: Dies (off-screen) of a massive heart attack; his death is mentioned in the epilogue.
The Day the World Ended (2001 TV) [Dr. Michael McCann]: Mauled and crushed to death by Bobby Edner's alien father (Brian Steele) as Nastassja Kinski looks on in shock. His body is later seen when he is thrown to the ground to be stepped over
5ive Days to Midnight (2004 TV mini-series) [Detective Irwin Sikorski]: Shot in the chest by Timothy Hutton just as Randy is about to shoot Timothy.
Category 6: Day of Destruction (2004; TV) [Tornado Tommy Dixon]: Sucked up by a tornado while videotaping another in his van. (note: although he returns in the sequel having survived it, I'll just list it in case they indented to be an actual death scene and if this can be viewed as a standalone film).
Rupert Murdoch Kills Randy Quaid ID15 (2015, YouTube Video) [Randy Quaid]: Killed when "Rupert Murdoch" (Evi Quaid wearing a Rupert mask) throws a rock at him. "He" then puts a blanket on Randy. (The same concept was repeated for two more YT videos.)
Community content is available under
CC-BY-SA
unless otherwise noted.