Line 6:
Line 6:
 

*'''''<span style="font-size:18">[[Pitch Black (2000)|Pitch Black]]</span>[[Pitch Black (2000)| ]]'''''<span style="font-size:18">'''[[Pitch Black (2000)|(2000)]]<span style="font-size:18"> </span>'''[</span>''<span style="font-size:18">Carolyn Fry</span>''<span style="font-size:18">]: Killed (off-screen) by the alien creatures while she and </span>[[Vin Diesel]]<span style="font-size:18"> are trying to escape; we only see one of the creatures grab her and fly away with her.</span>

 

*'''''<span style="font-size:18">[[Pitch Black (2000)|Pitch Black]]</span>[[Pitch Black (2000)| ]]'''''<span style="font-size:18">'''[[Pitch Black (2000)|(2000)]]<span style="font-size:18"> </span>'''[</span>''<span style="font-size:18">Carolyn Fry</span>''<span style="font-size:18">]: Killed (off-screen) by the alien creatures while she and </span>[[Vin Diesel]]<span style="font-size:18"> are trying to escape; we only see one of the creatures grab her and fly away with her.</span>

 

*'''''<span style="font-size:18">[[Surrogates (2009)|Surrogates]]</span>'''''<span style="font-size:18">[[Surrogates (2009)| ]]</span>'''<span style="font-size:18">[[Surrogates (2009)|(2009)]]</span>'''<span style="font-size:18"> [</span>''<span style="font-size:18">Agent Peters</span>''<span style="font-size:18">]: Shot to death (off-camera) by </span>[[James Cromwell]]<span style="font-size:18">'s surrogate body while she's asleep in bed. Her surrogate is later destroyed (while </span>[[Bruce Willis]]<span style="font-size:18"> is controlling it) when the other police shoot it in the head. (</span>''<span style="font-size:18">Thanks to TX and Tommy</span>''<span style="font-size:18">)</span>

 

*'''''<span style="font-size:18">[[Surrogates (2009)|Surrogates]]</span>'''''<span style="font-size:18">[[Surrogates (2009)| ]]</span>'''<span style="font-size:18">[[Surrogates (2009)|(2009)]]</span>'''<span style="font-size:18"> [</span>''<span style="font-size:18">Agent Peters</span>''<span style="font-size:18">]: Shot to death (off-camera) by </span>[[James Cromwell]]<span style="font-size:18">'s surrogate body while she's asleep in bed. Her surrogate is later destroyed (while </span>[[Bruce Willis]]<span style="font-size:18"> is controlling it) when the other police shoot it in the head. (</span>''<span style="font-size:18">Thanks to TX and Tommy</span>''<span style="font-size:18">)</span>

 
+

*<span style="font-size:18">'''''[[Rogue (2007)]]''''' [Kate Ryan]: Dragged Underwater by a Giant Crocodile; her body is shown but badly injured and </span> unconscious when Michael Vartan discovers her.

 
 
 

==TV Deaths==

 

==TV Deaths==
---
Revision as of 21:48, 9 June 2018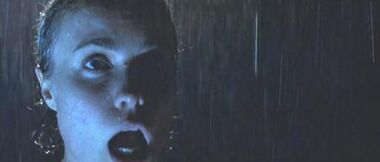 Radha Mitchell (1973 - )
Film Deaths
Pitch Black (2000) [Carolyn Fry]: Killed (off-screen) by the alien creatures while she and Vin Diesel are trying to escape; we only see one of the creatures grab her and fly away with her.
Surrogates (2009) [Agent Peters]: Shot to death (off-camera) by James Cromwell's surrogate body while she's asleep in bed. Her surrogate is later destroyed (while Bruce Willis is controlling it) when the other police shoot it in the head. (Thanks to TX and Tommy)
Rogue (2007) [Kate Ryan]: Dragged Underwater by a Giant Crocodile; her body is shown but badly injured and unconscious when Michael Vartan discovers her.
TV Deaths
None.
Community content is available under
CC-BY-SA
unless otherwise noted.