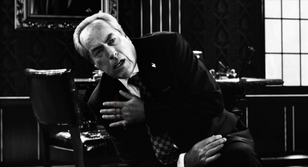 Powers Boothe (1948 - 2017)
Film Deaths
Edit
Red Dawn (1984) [Colonel Andy Tanner]: Shot to death by Soviet and Cuban soldiers while on top of a tank. (Thanks to Robert)
Sudden Death (1995) [Joshua Foss]: Killed in an explosion/burned to death when his helicopter crashes into the empty stadium, after Jean-Claude Van Damme shoots Powers' pilot and co-pilot, causing them to pull back on the controls making their helicopter fall vertically (he dies as Jean-Claude and his daughter look on). (Thanks to Robert)
U Turn (1997) [Sheriff Virgil Potter]: Shot in the head by Jennifer Lopez by the side of the road at night; his body is shown again when Jennifer and Sean Penn throw him over a cliff the next morning.
A Crime of Passion (1999) [Dr. Ben Pierce]: Killed by Kelly Rowan. (Thanks to Michael)
Frailty (2001) [Agent Wesley Doyle]: Hacked to death with an axe by Matthew McConaughey in a public garden/park as he struggles to climb out of an open grave, having been stunned by Matthew's divine powers (we only see Matthew bringing the axe down on Powers head).
Edison and Leo (2008) [George T. Edison]: Decapitated by Ben Cotton. However Edison made a Robot Replica of himself before his death.
TV Deaths
Edit
True Women (1997 TV) [Bartlett McClure]: Accidentally hits his head on a rock (off-screen) when his horse throws him; his body is shown afterwards when Dana Delany and Annabeth Gish discover him.
Attila (Attila the Hun) (2001 miniseries) [Flavius Aetius]: Stabbed to death. (Thanks to Lorin)
Agents of S.H.I.E.L.D.: The Team (2016) [Gideon Mallick]: Killed by shockwaves when the Hive-infected Chloe Bennet uses her seismic abilities on him; Chloe then erases the evidence of her involvement by detonating a grenade next to his body. His body is first shown when Iain De Caestecker and Elizabeth Henstridge discover him and his death is depicted in a flashback when Luke Mitchell figures out Chloe did it. (Powers' death was previously shown as a premonition in the episode Paradise Lost, but his actual death occurs in this episode.)
Deadwood: The Movie (2019) [Cy Tolliver] While Powers doesn't appear in the film, it's made clear that his character from the TV show passed away during the passage of time between the show and movie. (As it was made after his real-life death).  
Video Game Deaths
Edit
Turok (2008) [Kane]: Stabbed in the chest by Gregory Cruz with his own knife.
Hitman: Absolution (2012) [Benjamin Travis]: Shot to death (off-screen) by David Bateson; we only see David fire his gun.
Notable Connections
Edit
Community content is available under
CC-BY-SA
unless otherwise noted.