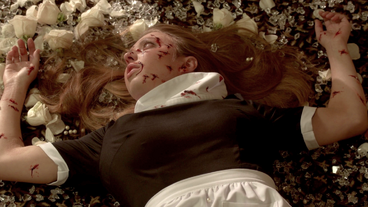 Pippa Mackie (19?? - )
Supernatural: Ask Jeeves (2014) [Colette]: After trying on the dead Wendy Abbott's pearl necklace, Pippa is confronted by Wendy's vengeful spirit. Wendy suddenly snatches the necklace from Pippa's throat, causing the pearls to spill onto the floor. Pippa backs away from Wendy in horror, causing her to slip on one of the pearls and fall from the third floor landing. Pippa crashes through a glass table and impacts the bottom floor, killing her.
Community content is available under
CC-BY-SA
unless otherwise noted.