Piper Laurie (1932 - )
Film Deaths
Edit
Until They Sail (1957) [Delia Leslie]: Decapitated (off-screen) by her jealous husband, before the movie begins; the movie opens with a courtroom scene, and the rest of the movie proceeds in flashback leading up to the trial.
The Hustler (1961) [Sarah Packard]: Commits suicide (off-screen), exact method unclear; we only see her legs lying on the bathroom floor afterwards when Paul Newman walks in and finds her.
Carrie (1976) [Margaret White]: Stabbed to death with several different kitchen utensils when her daughter (Sissy Spacek) telekinetically sends them flying towards her before Piper could kill Sissy. (See also Patricia Clarkson's vastly different death scene in the 2002 version.)
Ruby (Blood Ruby) (1977) [Ruby Claire]: Drowned in a lake by her lover's ghost; the movie ends on a freeze-frame of her being held underwater by his skeleton. (On the DVD audio commentary track, Piper confirms that the scenes of her character being pulled into the water were done by a stand-in, since the producer wanted a more shocking ending than the director's original cut, in which Piper quietly and willingly walked into the water to join her dead lover.)
Appointment with Death (1988) [Emily Boynton]: Poisoned with a lethal injection by Lauren Bacall.
Trauma (1993) [Adriana Petrescu]: Decapitated with her own wire-garrote device.
The Grass Harp (1995) [Dolly Talbo]: Dies of a stroke while dancing with Edward Furlong.
Hesher (2010) [Grandma]: Dies (off-screen) of an unspecified illness; her body is shown afterwards when Joseph Gordon-Levitt goes into her bedroom to check on her, and her funeral is shown later on.
White Boy Rick (2018) [Vera Wershe]: In the ending narration (provided by the real Richard Wershe Jr.), Richard mentions visiting his grandparents' graves, implying that both Piper and Bruce Dern died sometime after the events of the film.
TV Deaths
Edit
Cold Case: Best Friends (2005) [Rose 2005]: Apparently dies of old age/natural causes while sitting on a park bench; she is shown in a symbolic scene walking away with Tessa Thompson (who had died in 1932), which would seem to imply that Piper was now dead as well.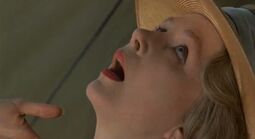 Community content is available under
CC-BY-SA
unless otherwise noted.