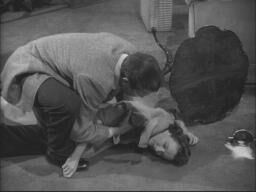 Phyllis Thaxter (1919 - 2012)
Superman III (1983) [Martha Kent]: Phyllis does not actually appear in this movie, but it's revealed that her character from the 1978 Superman had died of unspecified natural causes between the films. (The 2006 movie Superman Returns ignored the developments of Superman III and IV, and established that the character (now played by Eva Marie Saint) is still alive.) (Thanks to Tommy)
Alfred Hitchcock Presents: Malice Domestic (1957) [Annette Borden]: Poisoned (off-screen) when Ralph Meeker puts arsenic in her drink, after he had taken some non-lethal doses to make it look as though she had tried to poison him and had accidentally drunk the wrong cup. Her body is shown afterwards when Ralph discovers her. (Thanks to Big O)
Thriller: The Last of the Sommervilles (1961)
The Alfred Hitchcock Hour: Change of Address (1964) [Elsa Hollands]: Bludgeoned to death with a shovel by Arthur Kennedy in the basement. The scene cuts away as he swings the shovel towards her, and her body is not shown afterwards.
Ex-Mrs. James T. Aubrey (producer/former president of CBS).
Community content is available under
CC-BY-SA
unless otherwise noted.