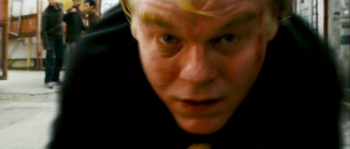 Philip Seymour Hoffman (1967 - 2014)
Film Deaths
[
]
The Fifteen Minute Hamlet (1995) [Bernardo/Horatio/Laertes]: As "Laertes," he is presumably slashed with a poisoned sword in a swordfight with Austin Pendleton. (I haven't seen this short film, but it's a condensed parody of the Shakespeare play.)
The Talented Mr. Ripley (1999) [Freddie Miles]: Bludgeoned to death with a marble bust by Matt Damon in Matt's hotel room (after Philip discovers Matt impersonating Jude Law); Matt then carries his body out to the car and drives it into the sea.
Red Dragon (2002) [Freddy Lounds]: Burned to death when Ralph Fiennes sets him on fire after a long period of torture; we see his flaming body rolling down the street in a wheelchair afterwards.
Cold Mountain (2003) [Reverend Veasey]: Shot to death during a battle between the home guard and a group of Union soldiers, while Philip is shackled to Jude Law on the chain gang.
Mary and Max (2009; animated) [Max Jerry Horowitz]: Dies of unspecified causes (possibly a heart attack due to his morbid obesity). His body is later seen when Mary (voiced by Toni Collette)  enters his apartment and finds him dead on his couch.
TV Deaths
[
]
Empire Falls (2005 mini-series) [C.B. Whiting/Charley Mayne]: Commits suicide by shooting himself in the head by his gazebo, several years in the past; he appears as a ghost to Ed Harris throughout the series. (Thanks to Stephen)
Gallery
[
]