Peter van Eyck (1911 - 1969)
a.k.a. Goetz van Eyck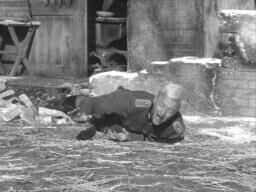 Five Graves to Cairo (1943) [Lieutenant Schwegler]: Killed by Franchot Tone. (Though I don't know the details).
The Moon is Down (1943) [Lieutenant Tonder]: Stabbed to death with scissors by Dorris Bowdon.
The Imposter (Bayonet Charge; Strange Confession) (1944) [Hafner]: Killed in combat with a German Patrol.
A Bullet for Joey (1955) [Eric Hartman]: Shot to death in a shoot-out with George Raft.
Jump Into Hell (1955) [Lieutenant Heinrich Heldman]: Shot by Viet Minh soldiers; he manages to kill them in turn of defuse their explosives before dying.
The Rawhide Years (1955) [Andre Boucher]: Accidentally shot by Robert J. Wilke who shoots at Tony Curtis from across the street but hits Peter instead.
Attack (1956) [SS Captain]: Shot to death by his fellow soldiers after Jack Palance pushes Peter out the doorway into the street.
Run for the Sun (1956) [Colonel Wilhelm von Andre a.k.a. Dr. Van Anders]: Hit by a plane on the runway as he tries to stop Richard Widmark and Jane Greer from taking off in it.
The Snorkel (1958) [Jacques Duval]: Suffocated or dies of starvation (off-screen) after being trapped under the floorboards when Mandy Miller knocks a wardrobe on top of the trapdoor, blocking his escape route. The movie ends with him trapped underneath the floor. (Thanks to Garrett)
The World in My Pocket (1961) [Bleck]: After missing a step and rolling down a rocky mountainside, he is blown up by grenades thrown by the police.
The Dirty Game (1965) [Petchatkin]: Killed in a explosive car crash while fighting with Jacques Sernas.
Community content is available under
CC-BY-SA
unless otherwise noted.