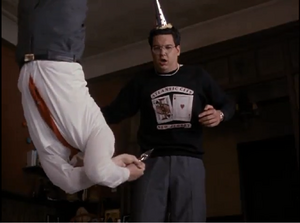 Penn Jillette (1955 - )
Penn & Teller Get Killed (1989) [Penn Jillette]: Shot in the stomach by Teller when Penn startles Teller by coming up behind him while Teller is hanging upside-down from the ceiling (played for comic effect).
Car 54 Where Are You? (1994) [Luther]: In the role as an arms dealer along with Teller they become overzealous during Penn's fast pace sales pitch and shoot each other (off-camera) with a set of musket pistols. The camera had cut to John C. McGinley watching with a disbelieving look on his face. (Played for comic effect).
Penn & Teller Bullshit!: Holier Than Thou (2005) [Teller]: Hit by lightening (off screen), along with Penn Jillette, by a vengeful God while performing a jazz number to finish their episode about disproving Mother Teresa's saintly hood; the lightning crash is heard at the end of the closing credits and the show cuts back to their bodies shortly after. (Played for comic effect)
With Teller, is part of the magic duo Penn & Teller.
Husband of Emily Zolten
Community content is available under
CC-BY-SA
unless otherwise noted.