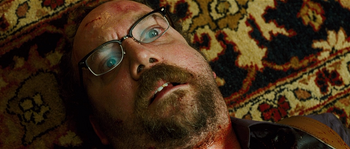 Paul Giamatti (1967 - )
Shoot 'em Up (2007) [Hertz]: Shot in the chest in a shoot-out with Clive Owen in Paul's home, blowing a hole straight through his torso (after Clive first puts several bullets between his broken fingers than sticks them beside a lit fireplace, setting them off). (Thanks to Adam)
The Last Station (2009) [Vladimir Chertkov]: Dies (off-screen) several years after the final scene; his death is mentioned in the on-screen text at the end of the film. (Thanks to Tommy)
Ironclad (2011) [King John]: Dies of dysentery (off-screen) while retreating; his death is revealed in the closing narration.
John Dies at the End (2012) [Arnie Blondestone]: Decapitated (off-screen) prior to the start of the film; he appears as a hallucination to Chase Williamson (assuming the form of what Chase thought he looked like) and his death is revealed when his real body (a special-effects dummy) is found in the trunk of his car. He later "dies" again when Chase stops imagining he's real, causing him to disappear.
Parkland (2013) [Abraham Zapruder]: Dies (off-screen) in 1970. His death is mentioned on the on-screen text at the end of the film, along with a photo of the real Abraham Zapruder.
Love & Mercy (2014) [Dr. Eugene Landy]:
Community content is available under
CC-BY-SA
unless otherwise noted.