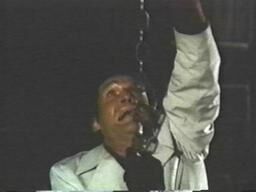 Patrick Allen (1927 - 2006)
Cross Channel (1955) [Hugo Platt]: Unintentionally shot in the stomach by his girlfriend June Ashley when she tries to shoot Wayne Morris. (Thanks to Brian)
The Long Haul (1957) [Joe Easy]: Drowned in the shallow river after fighting with Victor Mature and he drags some heavy boxes off the bottom of the lorry to throw at Victor but the load then topples on him, knocking him out as he falls into the water. (Thanks to Brian)
Puppet on a Chain (1970) [Inspector Van Gelder]: Falls to his death when the chain he's climbing down is activated to be pulled upwards by Sven-Bertil Taube until he reaches the pulley (with Sven-Bertil having him at gunpoint) and has to let go.
When Dinosaurs Ruled The Earth (1970) [Kingsor]: Drowned, with everybody else (except the 4 who escape on a raft), when a tidal wave engulfs the shore-dwelling community. (Thanks to Brian)
Persecution (1974) [Robert Masters]: Stabbed to death (off-screen) by Lana Turner, 20 years before the story begins; he only appears in flashbacks and his skeleton is shown when Ralph Bates uncovers it. (Thanks to Brian)
UFO: Timelash (1971) [Turner]: Machine-gunned by Ed Bishop. (Thanks to Brian)
The Black Adder: The Black Seal (1983) [Phillip of Burgundy a.k.a. The Hawk]: Poisoned along with the other conspirators, when they drink the wine that Tim McInnerny and Tony Robinson bring to them. (Played for comic effect)
Community content is available under
CC-BY-SA
unless otherwise noted.