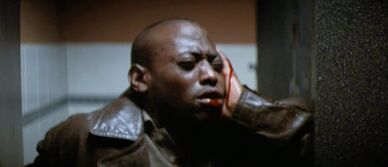 Omar Epps (1973 - )
Don't Be a Menace to South Central While Drinking Your Juice in the Hood

(1996)

[

Malik

]: Shot to death with a sniper rifle by Benjamin N. Everitt on the campus courtyard; shown in the background as Marlon Wayans

and

Shawn Wayans

walk away.
Dracula 2000 (2000)

[

Marcus

]: Bitten on the throat and drained of blood by

Gerard Butler

on the plane. He later comes back as a vampire, and is decapitated with a silver blade (having been stabbed in the eye with a concealed spike) by

Jonny Lee Miller

at the end of a fight in an alley (with Omar burning his hand as he tries to stab Miller in the neck with a silver stake).

Fatal Affair (2020) [David Hammond]: Falls to his death from a cliff after letting go of Nia Long's hand (either slipping or intentionally letting go)
ER: Night Shift

(1997)

[

Dr. Dennis Gant

]: Hit by a train (off-screen); it's left ambiguous as to whether it was an accident or suicide, although the latter is strongly implied. (

Thanks to Holly

)

Resurrection: Revelation (2014) [Martin Bellamy/Robert Thompson]: Shot in the heart by Donna Murphy during an interrogation; He is resurrected shortly after his death like many people in the town. (It is also revealed that Omar had previously resurrected after having died during a flood in 1934)
Community content is available under
CC-BY-SA
unless otherwise noted.