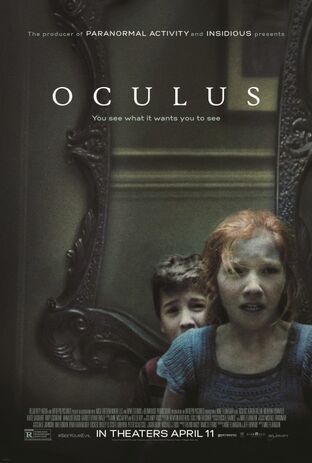 Oculus (2013)
Directed by Mike Flanagan
Haunted by the violent demise of their parents 10 years earlier, adult siblings Kaylie (Karen Gillan) and Tim (Brenton Thwaites) are now struggling to rebuild their relationship. Kaylie suspects that their antique mirror, known as the Lasser Glass, is behind the tragedy. The seemingly harmless reflections contain a malevolent, supernatural force that infects the mind of anyone who gazes into it. As Kaylie gets closer to the truth, the siblings become caught in the mirror's evil spell.
Male Deaths
Edit
Female Deaths
Edit
Filmed in 24 days.
Filmed in October 2012, first shown at the Toronto Film Festival in September 2013, but not given a proper release until April 2014.
Based on the short-film Oculus: Chapter 3 – The Man with the Plan by Mike Flanagan
Karen Gillan was always first choice to play Kaylie as Mike Flanagan was a big fan of her work in Doctor Who (2005).
Community content is available under
CC-BY-SA
unless otherwise noted.