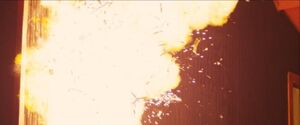 Nina Dobrev (1989 - )
Film Deaths
[
]
Arena (2011) [Lori Lord]: Killed in a car crash while riding with Kellan Lutz (who survives the accident.) (The character is pregnant at the time.)
The Final Girls (2015) [Vicki Summers]: Killed in an explosion, along with Alia Shawkat, when they use a rope-and-pulley to dump a bucket of gasoline onto the burning Dan B. Norris while Nina and Alia are pinned beneath a bookcase. She is brought back to life after Taissa Farmiga and Alexander Ludwig escape the world of the movie and wake up in a hospital, reunited with their friends (only to discover that they're not back in reality but in another movie).
Flatliners (2017) [Marlo]: 1) Is temporarily clinically dead at one point when she deliberately has her heart stopped in the laboratory in order to have an after-life experience. She was bring back to life with the help from Elliot Page, Diego Luna and James Norton. 2) Suffocated by a ghost of

Miguel Anthony

with bag while driving car in a dream sequence. 3) Temporarily clinically dead after overdoes herself on drugs. 4) Drowned in the bathtub in an another dream sequence. She was brought back to life by Diego who revived her.
TV Deaths
[
]
The Vampire Diaries: The Sun Also Rises (2011) [Elena Gilbert/Katherine Pierce]: Playing a dual role, "Elena" is bitten on the neck and drained of blood by Joseph Morgan, so that Joseph can complete a ritual that unlocks his werewolf side; she is brought back to life after Kat Graham uses a spell to transfer the life force of her father (David Anders) to her. "Katherine" survives the episode.
The Vampire Diaries: I Was Feeling Epic (2017) [Elena Gilbert/Katherine Pierce]: Playing a dual role, "Katherine" is incinerated by hellfire magically redirected at her by Kat Graham, while Paul Wesley holds her in place. "Elena" dies of unspecified circumstances (off-screen) years later; she is seen reuniting in the afterlife with her husband (Ian Somerhalder) and her family.
Gallery
[
]