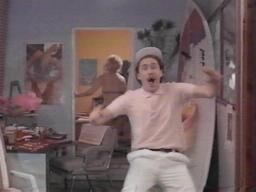 Nigel Planer (1953 - )
The Young Ones: Sick (1984) [Neil Pye]: Hit on the head with a shovel by Rik Mayall; after being buried in the garden, three new Nigels grow out of the ground. (The whole thing turns out to be Rik's dream sequence.) (Played for comic effect.)
The Young Ones: Summer Holiday (1984) [Neil Pye]: Killed in an explosion (along with Adrian Edmondson, Rik Mayall, and Christopher Ryan) when their bus blows up shortly after going over a cliff, immediately after they survive the crash and exclaim "Whew, that was close!" (Due to the series' comedic nature, it's unclear whether or not this was intended to be fatal; however, since it was the final episode of the series, I'll list it just in case.) (Again, played for comic effect.)
Blackadder the Third: Nob and Nobility (1987) [Lord Smedley a.k.a. Madame La Guillotine a.k.a. the Scarlet Pimpernel]: Poisoned when Rowan Atkinson gives him some poisoned wine in the jail cell, haven mistaken Nigel for one of the French captors; he dies after explaining the poison's symptoms, unaware that he's also demonstrating the symptoms as he does so. (Played for comic effect.)
Hogfather (2006; TV movie) [Mr. Sideney]: Slashed to death (off-screen) by the Scissormen after the Tooth Fairy's magic causes his childhood fears to manifest; we only see the Scissormen's shadows on the wall as they close in on him.
Brother of Roger Planer (television writer)
Ex-husband of Frankie Park
Community content is available under
CC-BY-SA
unless otherwise noted.