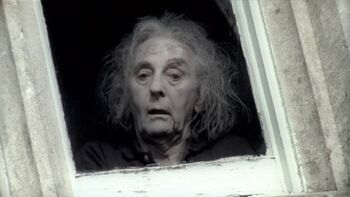 Nicholas Amer (1923 - 2019)
Disciple of Death (1972) [Melchisidech the Cabalist]: Dies (off-screen) under unspecified circumstances. He is seen when Stephen Bradley and Ronald Lacey visit him for mystical advice; after Stephen and Ronald leave, Ronald re-enters and sees a skeleton where Nicholas had been, suggesting that Nicholas had been a ghost all along.
Miss Peregrine's Home for Peculiar Children (2016) [Oggie]:Eyes eaten by one of the Hollow. 
Hamlet (1961 TV mini-series) [Rosencrantz]: Executed (off-screen), along with Edward Rhodes, after William Russell changes the message ordering his execution to order theirs instead.
Jonathan Creek: Ghost's Forge (1999) [Bill]: Stabbed in the back of the neck by his niece (Sara Stevens) after Nicholas knocks Mark Aiken down a staircase while burglarizing Mark's home, 18 months before the episode begins. His body is shown through the window in a flashback sequence to when a passerby notices him and the police investigate, and his death is shown in a later flashback when Sara confesses what actually happened.
Community content is available under
CC-BY-SA
unless otherwise noted.