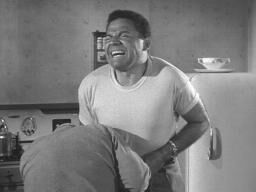 Nehemiah Persoff (1919 - )
Film Deaths
[
]
Men in War (1957) [Sfc. Nate Lewis]: Killed in an explosion when he panics and runs after walking into a minefield.
Psychic Killer (1975) [Dr. Gubner]: Killed (off-screen, exact method unclear) by Jim Hutton's astral form; his body is seen when Julie Adams discovers it in Jim's bedroom.
Television Deaths
[
]
Playhouse 90: The Killers of Mussolini (1959) [Benito Mussolini]: Executed, along with

Ilka Windish

, by a firing squad of partisans; their bodies are then hanged upside-down.
The Twilight Zone: Judgment Night (1959) [Carl Lanser]: Dies (off-screen) under unspecified circumstances, some time before the episode begins; he wakes up on board a British ship, and eventually discovers that his own U-boat sank the ship and that he is being forced to relive the sinking over and over again.
Rawhide: Incident of White Eyes (1963) [Domingo]: Presumably killed by Apache Warriors after being hole up in a stagecoach weigh station. With

Eric Fleming

, Diana Millay and Nita Talbot as the only other survivors Nehemiah makes a run for it to save their lives knowing it was he the Apaches were after for breaking their tribal taboo. We last see Nehemiah riding over a hill with the warriors in close pursuit.
The Wild Wild West : The Night of the Underground Terror (1968) [Major Hazard] Shot in a gunfight with Robert Conrad.
Columbo: Now You See Him (1976) [Jesse Jerome]: Shot to death by Jack Cassidy in Nehemiah's office.
Greatest Heroes of the Bible: Daniel and the Lion's Den (1978) [Malamar]: Eaten off-screen along with Dean Stockwell and another colleague (unclear actor) by lions.
St. Helens (1981 TV) [Mr. Ellison]: Killed during the eruption of Mount St. Helens.