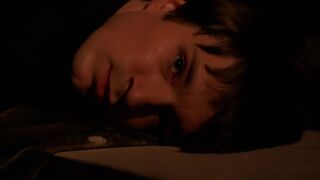 Nathan Fillion (1971 - )
White Noise: The Light (2007) [Abe Dale]: Commits suicide by overdose; he is later brought back to life in the hospital and dies once again when he is shot to death repeatedly in the stomach and chest by the police as he's about to shoot Bruce Thomas
Green Lantern: Emerald Knights (2011) [Hal Jordan/Green Lantern]: Shot and killed by Sinestro (Jason Isaacs) in a dire prophecy told by Atrocitus (Bruce Thomas); he survives the film in reality.
Dr. Horrible's Sing Along Blog (2008) [Captain Hammer]: Squashed to death by a giant Neil Patrick Harris in Neil's fantasy. Nathan survives the film in reality.
Santa Clarita Diet: So Then a Bat or A Monkey? (2017) [Gary West]: Mauled to death by Drew Barrymore. His chopped up body is seen at the opening of the next episode We Can't Kill People! as Barrymore and Timothy Olyphant try to bury it.
A Series of Unfortunate Events; The Vile Village Part 1 (2018) [Jacques Snicket]: Beaten to death with a crowbar off-screen by Neil Patrick Harris; we hear of his murder at the end of the episode and his body is seen being carried out in the following episode.
Jade Empire (2005) [Gao The Lesser]: Killed in a hand-to-hand fight by the player.
Community content is available under
CC-BY-SA
unless otherwise noted.