watch 01:23
Wiki Targeted (Entertainment)
Play Sound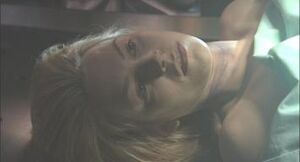 Natasha Henstridge (1974 - )
Film Deaths:
Species (1995) [Sil]: Shot in the head by Michael Madsen in her alien form while attacking Forest Whitaker. (By the time of her death, Natasha has been replaced by her special-effects alien form for several scenes.)
Species II (1998) [Eve]: Seemingly mortally injured in her alien form while fighting the other alien (Justin Lazard), she resumes human form as she apparently dies and gives birth to her alien child. (The 2004 sequel revealed that she wasn't actually dead yet, but at the time, the movie leaves it open-ended as to whether or not she dies.)
Standoff (1998) [Mary]: Shot several times in the stomach by a government trooper while she's holding a gun on Robert Sean Leonard. (I've only seen a brief clip out of context, so I may be misinterpreting the situation.) (Thanks to G-Man)
Species III (2004) [Eve]: After recovering from her apparent death in Species II, her neck is snapped by her hybrid offspring (using his prehensile tongue) while she's in the process of giving birth to another hybrid in the military ambulance. Her body is shown again later on in the morgue when the coroner gives his report to a military officer. (Thanks to Disciplesoffufkin and Charm)
Deception (2008) [Wall Street Analyst]: Garroted with a wire (off-screen) by Hugh Jackman; her body is shown afterwards in the morgue when Lisa Gay Hamilton brings in Ewan McGregor to identify the body. (Thanks to Fleming)
Deadly Ex (Inconceivable) (2016 TV) [Valerie Stennil]: Commits suicide by slitting her own wrist to avoid police capture.
TV Deaths:
South Park: Tom's Rhinoplasty (1998; animated) [Ms. Ellen]: Burned to death after being trapped inside a rocket and shot into the sun. (Thanks to Robert)
Beauty and the Beast: The Most Dangerous Beast (2015) [Carol Hall]:  Commits suicide by stopping her own heart after learning about Alan Van Sprang's death.
Video Game Deaths
Command & Conquer 3: Kane's Wrath (2008) [Alexa Kovacs]: Commits suicide (off-screen) by shooting herself in the head; only the sound of a gunshot is heard as the screen cuts to black.
Notable Connections: