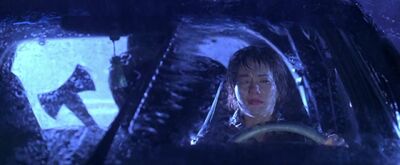 Natasha Gregson Wagner (1970 - )
Another Day in Paradise (1998) [Rosie]: Dies (off-screen) of a heroin overdose in her hotel room. Her body is shown afterwards when Vincent Kartheiser returns to the room and discovers her. (Thanks to RiffXRaff)
Urban Legend (1998) [Michelle Mancini]: Decapitated with an axe by Rebecca Gayheart (who had been hiding in the backseat of Natasha's SUV). The scene cuts away just as the axe makes contact, followed by a shot of blood splashing on the window (followed by the axe smashing through the driver's side window).
Stranger Than Fiction (2000) [Violet Madison]: Commits suicide (off-screen) by hanging herself in her apartment; her body is shown afterwards when her friends discover her. (Thanks to LJ)
Wonderland (2003) [Barbara Richardson]: Beaten to death with a metal pipe by a drug dealer during a home invasion. Shown with rapid-fire editing intercut with crime scene/morgue photos.
Cold Case: Committed (2005) [Carmen Hays]: Dies (off-screen) of old age/natural causes, shortly before the story begins; she only appears in flashbacks to her youth in the 1950s, and is never shown in her older days. (Thanks to Germboygel)
Community content is available under
CC-BY-SA
unless otherwise noted.