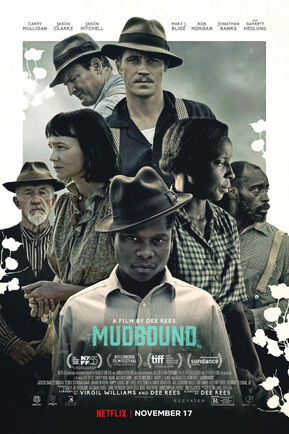 Mudbound (2017)
Directed by Dee Rees
Two men (Garrett Hedlund and Jason Mitchell) return home from World War II to work on a farm in rural Mississippi, where they struggle to deal with racism and adjusting to life after war.
The film was premiered at The Sundance Film Festival 2017 where it received a standing ovation.
Second film with Garrett Hedlund and Carey Mulligan playing alongside each other, the first was Inside Llewyn Davis (2013).
Mary J. Blige related closely to her character, as she had an Aunt who embodied her character Florence, who had worked for and raised a bunch of kids in a white family who loved her. Additionally, she saw her character also in the experiences of her grandmother.
Director Dee Rees shared photographs from the film's era with Carey Mulligan as part of her preparation, and she was drawn to a particular one of a woman with a really short fringe (bangs) who looked so awkward to her, which she thought reflected her character Laura. Thus, she cut her hair in a similar style for the film.
Community content is available under
CC-BY-SA
unless otherwise noted.