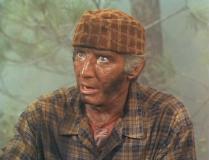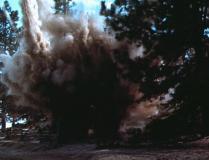 Morgan Woodward (1925 - 2019)
Film Deaths:
Edit
Gunpoint (1966) [Drago Leon]: Shot dead by Audie Murphy on the top of the mesa. (Thanks to Brian)
Firecreek (1968) [Willard]: Shot from his horse by James Stewart, his foot is caught in a stirrup as the horse bolts off screen but we see blood coming from Woodward's mouth. (Thanks to Brian)
The Wild Country (1970) [Ab Cross]: Shot to death by Ron Howard, when he tries to kill Vera Miles. (Thanks to Harry)
Television Deaths:
Edit
Wagon Train: The Jed Polke Story (1961) [Walt Keene]: Fatally shot in the back with an arrow as Morgan was trying to kill John Lasell and Dennis Holmes.
Wagon Train: The Kitty Allbright Story (1961) [Barney]: Dies of scarlet fever in a hospital wagon with Polly Bergen and Robert Horton at his bedside.
Wagon Train: The Martin Onyx Story (1962) [Second Killer]: Shot to death by Jack Warden during the final gun fight between Morgan's outlaw gang and the townspeople.
Gunsmoke: Vengeance Part 1 (1967) [Zack Johnson]: Kicked repeatedly in the back by the rearing horse of one of rancher John Ireland's men when found with a dead steer on the range. He dies some time later in the boarding house. (Thanks to Brian)
Tarzan: King of the Dwsari (1968) [Blaine]: Stabbed by an African tribesman's spear during a chase. 
Gunsmoke: Lobo (1968) [Luke Brazzo]: Woodward causes havoc in Dodge and James Arness pursues him out of town. He refuses to give himself up and Arness is forced to shoot him dead after he still tries to shoot back after being wounded. (Thanks to Brian)
Bonanza: The Prisoners (1971) [Sheriff Clyde Morehouse]: Clubbed on the head with heavy metal handcuffs by his prisoner Michael Witney after he releases him from the tree to which he was tethered. (Thanks to Brian)
​Gunsmoke: The Sodbusters (1972) [Lamoor Underwood]: Shot in the chest through the window of the hotel during the shootout with Alex Cord . (Thanks to Brian)
Community content is available under
CC-BY-SA
unless otherwise noted.