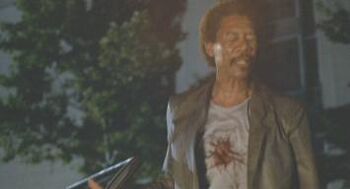 Morgan Freeman (1937 - )
Coriolanus (1979) [Coriolanus]: Stabbed to death by a group of assassins. (I haven't seen this version, but I'm roughly familiar with the Shakespeare play.)
That Was Then...This Is Now (1985) [Charlie Woods]: Shot in the head by pool hustlers. (Thanks to Fortza)
Glory (1989) [Sergeant Major John Rollins]: Killed off-screen while charging the Confederate fort; the scene ends with Morgan, Cary Elwes and the other soldiers running towards a series of deployed cannons, which then fire. Morgan's body is not shown among those being buried in a mass grave, most likely due to the cannons' destructive capabilities. (Thanks to Robert, The Grey Ghost, and Michael)
The Power of One (1992) [Geel Piet]: Fatally beaten by Clive Russell in the prison yard; he dies shortly afterwards while talking to Simon Fenton.
Nurse Betty (2000) [Charlie]: Shot to death off-camera in a shoot-out with police outside a hotel, after he says goodbye to Renee Zellweger and walks out. Only gunshots are heard when he leaves the room, with his death is confirmed in a TV news report.
The Sum of All Fears (2002) [DCI William Cabot]: Dies of radiation poisoning combined with injuries from a car crash after a nuclear bomb that was installed by Alan Bates' men detonates nearby; he dies while talking to Ben Affleck. (Thanks to Tal)
The Bucket List (2007) [Carter Chambers]: Dies during surgery to treat a brain tumor; his body is shown lying on the operating table afterwards. (Thanks to Eric, ND. Scott, Giro, Daniel, Richard, and Tommy)
Wanted (2008) [Sloan]: Shot in the back of the head with a sniper rifle by James McAvoy; after the bullet emerges from Morgan's head, the scene then rewinds to show the bullet's path going back to James. (Thanks to Daniel, ND, Steven, Manda, Andrew, and Tommy)
Oblivion (2013) [Malcolm Beech]: Killed in an explosion, along with one of the Tom Cruise clones, when they detonate a nuclear device to destroy the ship. (Thanks to Tommy, Dignan, and ND)
Community content is available under
CC-BY-SA
unless otherwise noted.